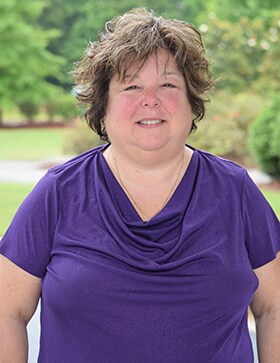 Studying the genomics of human disease is an ongoing challenge for the world's molecular biologists. Research continually discovers new sorts of disease-causing abnormalities for instruments to try to detect and understand, and the meaning of each reading is not always clear. For Dr. Barb DuPont of Greenwood Genetic Center, the Cytoscan DX proved to be the right tool for the job.
Greenwood Genetic Center has been doing chromosome analysis and fluorescence in-situ hybridization (FISH) since 1975 and started running clinical microarrays in 2004. As one of the first genetic testing companies to use this cutting-edge technology, Greenwood Genetic Center has had a long time to observe improvements in microarrays. "Our first array had 287 probes for the entire genome," Barb observes. "We didn't have two million probes across the genome like we do now." They devoted their early microarrays to their most vexing cases, which other technologies had already failed to identify, and have continued to use microarray technology to improve understanding of difficult-to-parse genetic abnormalities. They improved their selection of arrays over time and switched to the Cytoscan suite over competitors' tools because of its many advantages, particularly when it comes to time, ease and cost savings. Time spent with the Cytoscan DX suite showed that she was missing more than she ever imagined without it.
Barb and her colleagues at Greenwood Genetic Center are working on a new project called Technology and Genomics Enhancing Medicine (TGEM). Describing this endeavor, Barb explains: "We have a number of different new technologies. One of them is exon arrays. Another is a methylation array, which looks at differential methylation across the entire genome…whole genome sequencing, of course, and RNA work." The end goal is having a large cohort of samples from various cases that they have not been able to fully elucidate and using this combined set of arrays to finally unravel their mysteries. By comparing the results of these four highly dissimilar assays, Greenwood Genetic Center can determine which assays are most informative for which conditions and which sorts of samples, helping to optimize the order in which these tests are used in future cases. With each test generating a different kind of data and having a different set of limitations, such insight into when each test is most useful saves tremendous amounts of time and effort, leading to better outcomes.
So far, Barb and her colleagues have found that the Cytoscan DX is an ideal first step: "Ninety-eight percent of our [cases] will have Cytoscan DX run as one of the very first tests." The Cytoscan suite provides Dr. DuPont and her colleagues with a single platform that can investigate copy number variations (CNVs), single nucleotide polymorphisms (SNPs), and allele-specific variations, which could confirm each other's findings within a single run. "We could get it all in one shot," Barb explains. "What we were doing before that was, we were ordering in bacterial clones that had the specific region of DNA from the CNV and having to grow it up, isolate the DNA, label it, and then do FISH to confirm the findings from the microarray." Being able to leave this process in the past saved Greenwood Genetic Center untold amounts of time and money and convinced them to abandon their previous array for the Cytoscan DX.
Barb and the Greenwood Genetic Center have used the Cytoscan DX to address a variety of difficult cases of genetic abnormality that had eluded other diagnostic efforts. One case had initially been attributed to FG syndrome 1, but sequencing the relevant med12 gene showed no abnormalities. Numerous other tests had likewise yielded no answers, showing all signs of normalcy. Microarray analysis showed that the case was actually one of a duplication of a 17P region that overlaps with cmt1a and sms. For the clinicians and family, it was a relief to finally have an answer.
In another noteworthy case, Greenwood Genetic Center was tasked with finding the genetic basis of a case of hypotonia and failure to thrive. Using the Cytoscan DX, they discovered low-level mosaic monosomy 7, indicating the early stages of myeloid dysplasia or leukemia in an infant. Further hematology tests confirmed the microarray's conclusion.
One interesting case that Greenwood Genetic Center was able to address using Cytoscan DX was of uniparental disomy 14. The standard MLPA test for this condition was negative, despite other signs that this was the correct conclusion. Greenwood Genetic Center was able to show that the root of the case was segmental uniparental disomy 14, covering the region that causes the condition but not the region assayed in the standard MLPA test, which demonstrated the merit of the Cytoscan DX as a tool for addressing these difficult cases.
Solving difficult genetics cases is a source of great satisfaction for Dr. DuPont and the rest of Greenwood Genetic Center, and the Cytoscan DX platform enables them to do this more efficiently, quickly and cost-effectively than ever before. "Our clinicians are very very savvy," she explains, and they know that the number of probes and breadth of coverage the Cytoscan offers represents a sizable improvement over anything they used before. It's "very cool technology," as Barb puts it.
Learn more about the Cytoscan DX suite and how it can improve your diagnostic practice.