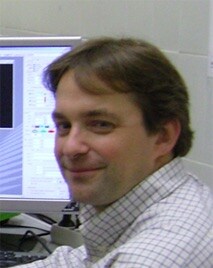 Dr. Bill Telford, Flow Cytometry Research Core Manager at the National Cancer Institute, NIH in Bethesda, MD, recently spoke to us about his experience studying cell proliferation via incorporation of synthetic nucleotides such as EdU (ethynyl deoxyuridine) and BrdU (bromo deoxyuridine). His areas of research encompass cancer biology, immunology and flow cytometer design. He shared with us his knowledge of how studying cell proliferation via non-natural nucleoside incorporation is best done, the differences in the techniques available and how the techniques have changed over the years.
What are the various ways that a researcher could study cell proliferation?
There are a variety of techniques out there for looking at cell proliferation. BrdU or EdU incorporation is one technique. The condition of this technique is that you have to add BrdU or EdU to your reaction mixture. You have to incubate cell with this nucleotide prior to analysis.
There are other techniques out there for looking at cell proliferation. The CellTrace reagents where you label a membrane or protein-reactive tag to the cell and look at gradual reduction of that tag over time, are frequently used for cell proliferation.
There are also markers (antigens) that can be used for cell proliferation. T cells have markers that are associated with activation like CD69. More general markers like Ki-67 can be detected by immunolabeling and also markers for cell proliferation. You can also look at simple cell cycle analysis by permeabilizing the cells and labeling them with a DNA dye and look for the distribution of cells in the G1-S phase and G2 components of the cell cycle.
The disadvantages of some of those simpler techniques is that you do not get a kinetic picture of cell cycle. You are not able to calculate the number of cells entering S phase over a particular time interval. That's one of the big advantages, I think, to using the incorporation of non-natural nucleosides such as BrdU or EdU is that you are able to look at the kinetics of cell cycle and actually calculate the number of cells that are entering S phase during a particular interval of time. You can also look at the eventual movement of those cells to G2, M phase, and then back to G1 as well.
By using an incorporation assay, you are actually able to see the kinetics of the process. That's why bromo deoxyuridine (BrdU) incorporation has historically been so important for measuring cell proliferation, and why the Click-iT Plus EdU technology maintains this importance. They are critical for analyzing the kinetics of cell cycle.
In the history of incorporating synthetic nucleotides into dividing cells to study cells undergoing cell proliferation, BrdU was the first gold standard that replaced the use of tritiated thymidine. Tell us about how the technology has changed with time.
I'm old enough to remember tritiated thymidine and it certainly worked, but you were looking at bulk populations. You were not able to look at individual cells like you can in flow cytometry. The big advance that BrdU gave us was that we were able to look at individual cells and see the transfer of cells from G1 to S phase in a very dynamic way, and in a single cell fashion.
What Click-iT Plus EdU technology has done is made the technique far simpler, far gentler and far more compatible with other fluorescent reagents. It is a major step in increasing the utility of the original BrdU concept and making it simpler and easier to do.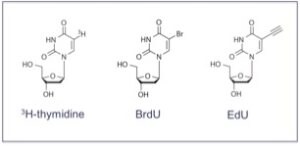 What is the biggest disadvantage of using older BrdU method?
The biggest disadvantage for looking at cell proliferation by BrdU is the fact that the technique is very harsh to cells. The older denaturation methods required acid or heat treatment and the newer denaturation methods use detergent treatment and DNase. While these methods work, they cause a lot of cell damage and they also cause a lot of damage to the DNA.
One of the difficulties using BrdU is that you need to use DNase treatment to denature the DNA. For us, this was always a very difficult point because DNase preparations can have different activities. You have to titer the DNase to cause enough damage to the DNA that the anti-BrdU antibody can reach the BrdU, but not damage so much that you affect the cell cycle. If you damage the DNA too much, you'll get a very muddy picture of the cell cycle distribution. For people still using the BrdU technique I would consider the DNase activity to be the biggest variable in the assay, and something that might require additional work to get an optimal assay.

The advantage of the Click-iT Plus EdU technology is that it uses small molecule ligands so you don't have to denature the DNA; the DNA can be left in an intact state. So this, in and of itself, gives far more reproducible results. In our hands, the Click-iT Plus EdU is far more reliable than the older BrdU methods simply because you have removed that major variable from the technique.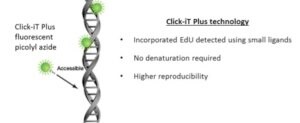 What differences are there in the time required for the protocol when comparing the older BrdU technique to the Click-iT Plus EdU technique?
The Click-iT Plus EdU protocol can be carried out from initial harvesting of the cells to analysis in less than 2 hours compared to the older BrdU method which takes 3 to 4 hours. You permeabilize the cells very gently but you don't have to affect the chromatin structure like you do with the BrdU technology. Because of the gentleness of the technique, you end up getting better samples and better data. It was rarely possible to just use the BrdU technique out of the box. You had to optimize it for your particular cell type. With the Click-iT Plus EdU reagents they seem to be much more one size fits all; the denaturation optimization steps are no longer necessary. 
Are there any other differences between the Click-iT Plus EdU technology and the older BrdU method? 
The other problem with the BrdU method is that it is not compatible with fluorescent immunophenotyping and other multicolor protocols. The detergent treatment, the DNase, often ends up damaging the fluorochromes and the other reagents that you are incorporating into the cells in addition to the BrdU immunodetection.
The Click-iT Plus EdU technology has much more compatibility with some of the large molecule immunophenotyping fluorochromes that we use like phycoerythrin (PE), and it is also more compatible with fluorescent proteins like GFP, dsRed, and hcRed. The method is far gentler and it is much easier to combine with other fluorescent assays to look at cell proliferation in small subsets or to look at it in combination with fluorescent proteins and other fluorescent dyes. In my opinion, the Click-iT Plus EdU cell proliferation assay is the new gold standard for looking at cell proliferation by flow cytometry and imaging.
[Editor's note: The image below demonstrates the differences between the normal Click-iT EdU kits (original technology introduced) which have limited compatibility as compared to the highly compatible Click-iT Plus EdU kits (updated technology introduced). The normal kits are not compatible with fluorescent proteins or R-phycoerythrin (R-PE) and R-PE based tandems (i.e., R-PE-Cy7 conjugates as shown in the data) whereas the Click-iT Plus EdU kits are fully compatible. For compatibility with fluorescent proteins and sensitive APC- and R-PE-based tandems, we recommend use of the Click-iT Plus EdU flow cytometry kits. See the ISAC 2014 poster.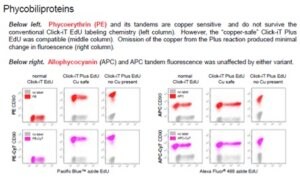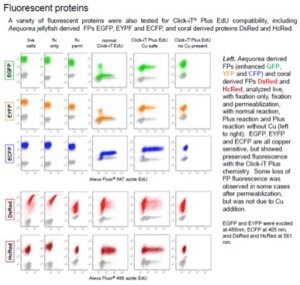 What type of information would someone be getting if they are studying cell proliferation via incorporation of BrdU or EdU?
 Using these assays, you are going to get a kinetic picture of the cell cycle. You are going to be able to determine the precise number or percentage of cells that are entering S phase during a particular interval. So, at the very beginning of the assay, you'll add your BrdU or EdU to your cell culture media, and incubate it. This can be for minutes or for hours, or even days.
If using a Click-iT Plus EdU technology, you then harvest the cells, fix and permeabilize them, labeling them with the Click-iT Plus EdU reagent and analyze. What you'll see is a distribution of cells in G1, S and G2 phase where the S phase cells will have incorporated the Click-iT Plus EdU reagent and will be distinguishable from the cells that are still in G0/1 or G2.
For someone new to conducting cell proliferation studies via detection of an incorporated nucleotide, what advice would you give them?
You want to titer the concentration of the nucleotide that you are using. You want to try different time intervals.
Both BrdU and EdU are compatible with cell growth, but they are synthetic nucleotides. Eventually they will have an effect on cell proliferation that the natural nucleotides won't. For example, if using the Click-iT Plus EdU assay, you want to keep the concentration of EdU low, and the incubation interval as low as you possibly can. This will depend on your cell type. Cell lines proliferate rapidly. Even a 15 or 30 minute incubation with EdU may be sufficient to see the entry of cells into S phase. If you are activating T cells that have just come out of a mouse it may take 24 to 48 hours to get good incorporation of the nucleotide into the cell. Experiment with different concentrations of EdU, different pulse intervals to optimize your assay.
What aspects of this type of assay are critical for researchers?
 The critical aspects of this are the time with which you incubate the nucleotide and also the concentration. As with any fluorescence incorporation assay, I would very carefully titer these. You want to minimize the time and also the concentration of the BrdU or the EdU reagent.
Cells that divide very rapidly can probably be incubated for very short periods of time with a nucleotide such as EdU. Cells that are cycling more slowly or will take some time to be activated may need longer incubation times and higher concentrations.
EdU is supplied in the Click-iT Plus EdU kit, in a stock solution. You as the investigator can control the concentration and also the pulse interval, the time during which the EdU is present in cell culture, and you are going to want to titer and test out different time intervals and different cell concentrations to get the best possible information from your cells.
The legacy of Molecular Probes and what it has meant to you in your research? 
I have been working in the biomedical sciences, in flow cytometry since the 1980s. I remember Molecular Probes when the catalog I believe was still stapled together. For us, Molecular Probes has always been an enormous resource for fluorescent reagents. They had things that nobody else had and they would synthesize just about anything if it was useful for a research application. We have always relied very heavily on Molecular Probes and on the companies that have subsequently come into ownership of Molecular Probes, most recently Thermo Fisher Scientific. For us it has been a very, very effective and productive academic—industry collaboration. And we hope very much that it continues.
For Research Use Only. Not for Use in Diagnostic Procedures.