Combating Life-Threatening Viral Infections – HIV-1
Using CRISPR and Cas Protein to Identify and Edit DNA Sequences
CRISPR technology is a revolutionary gene editing tool that holds great promise for combating life-threatening viral infections. CRISPR stands for clustered regularly interspaced short palindromic repeats, which are part of a genome editing system that evolved naturally in bacteria [1,2]. Geneticists can use CRISPR technology to recognize a specific DNA sequence and edit it with a CRISPR-associated ribonuclease, or Cas protein.
To direct editing specificity, the Cas protein is complexed with a small guide RNA (gRNA) that is complementary to the target sequence. The Cas protein cuts both DNA strands when the associated gRNA binds to the target sequence, and innate cellular DNA repair mechanisms can be harnessed to introduce a nucleotide-specific change, remove an entire DNA segment, or replace region of DNA with a customized sequence. Sanger sequencing by capillary electrophoresis (CE) is typically performed afterwards to assess the accuracy and efficiency of the gene editing process.
CRISPR Gene Editing as a Novel Approach to Durable HIV-1 Control
Approximately 38 million people around the world live with human immunodeficiency virus (HIV), and up to one million individuals die of illness due to acquired immunodeficiency syndrome (AIDS) each year [3]. While antiretroviral therapy (ART) can significantly inhibit HIV-1 replication, it does not remove proviral HIV-1 DNA from the host genome. The latent virus persists in host cells and can readily reactivate if ART is discontinued, which can result in progression to AIDS. Long-term remission of HIV-1 infection is exceedingly rare [4,5], and there is currently no cure for AIDS.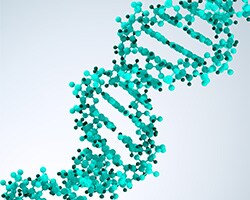 HIV-1 Therapy with the CRISPR-Cas9 System
Cas9 is an RNA-guided endonuclease originally discovered in Streptococcus pyogenes, and gene editing with the CRISPR-Cas9 system has demonstrated potential as a way to eliminate the need for ART to treat HIV-1 infection in humans [6,7]. Researchers in the Pillai laboratory at the University of California San Francisco, the Vitalant Research Institute, and Los Alamos National Laboratory devised a dual-target editing strategy to prevent HIV-1 replication in human T cells and counteract infection of uninfected cells in vitro.
Related: Genotyping of HIV-1 to Detect Drug Resistance
Human Jurkat cells infected with HIV-1 were transfected with a lentiviral vector that expressed the Staphylococcus aureus Cas9 enzyme SaCas9 and two gRNAs that targeted highly conserved regions in the latent HIV-1 gag gene. The team designed gRNAs for highly conserved regions of the HIV genome to maximize the number of strains they could target and minimize the likelihood of off-target editing events. The lentiviral vector was also engineered to express a gRNA that recognized a sequence in the human CXCR4 gene to reduce expression of the CXCR4 receptor responsible for HIV-1 entry into CD4+ T cells.
Prior to gene editing, the team performed PCR to amplify genomic regions that contained gRNA target sequences and analyzed the amplicons with high-resolution Sanger sequencing. They screened a total of 20 gRNA candidates to identify gRNAs that would be both effective and unlikely to cause off-target editing events. Once CRISPR-Cas9 editing was complete, Sanger sequencing was performed again to determine whether the dual-target strategy was successful. The Sanger sequencing output was used as input for tracking of indels by decomposition (TIDE) analysis, which revealed the frequency of small insertions and deletions (indels) generated by the CRISPR-Cas9 system.
CRISPR-Cas9 System
Reduce Virus Production and Achieve Remission
Targeting the HIV-1 gag gene alone reduced virus production by 78%, while targeting only the human CXCR4 gene reduced surface expression of the CXCR4 receptor by 35%. The team found that targeting the gag and CXCR4 genes simultaneously was the most effective strategy for achieving remission. The complete CRISPR-Cas9 system both inactivated HIV-1 production in infected human T cells and rendered uninfected cells resistant to the virus. The team also developed a mathematical model that predicted the two-pronged editing approach would enable 513 days of remission in vivo in the absence of ART and 591 days of remission after ART cessation.
Indefinite Remission Might Be Possible
The authors of the study concluded that indefinite remission might be possible with multiple rounds of CRISPR-Cas9 gene therapy. Their work demonstrates that a dual-gene CRISPR-Cas9 editing strategy has the potential to revolutionize clinical HIV-1 management by eliminating the need for antiretroviral drugs.
Sanger Sequencing by CE and Fragment Analysis
The Gold Standard For Gene Editing Confirmation
Accurate, Simple, Cost-Effective, Long Read Lengths
Sanger sequencing by capillary electrophoresis (CE) is the gold standard for gene editing confirmation due to its accuracy, simplicity, cost-effectiveness, and long read lengths. Sanger sequence analysis is straightforward.
Assess Editing Efficiency with Fragment Analysis by CE
In addition, fragment analysis by CE enables rapid detection of insertions and deletions with single base pair resolution. Since DNA repair during CRISPR-mediated gene editing in primary transformed cells is not entirely efficient or accurate, fragment analysis and Sanger sequencing are often performed to assess editing efficiency. CE is also useful for determining the frequency of successful editing events in secondary clones.
Related: CRISPR Gene Editing Confirmation With Sanger Sequencing
Applied Biosystems™ genetic analyzers are trusted CE systems for Sanger sequencing and fragment analysis, and they drive today's most powerful CRISPR gene editing applications. Innovations like the SeqScreener app on the Thermo Fisher™ Connect Platform have been designed from the ground up for determining the range and frequency of CRISPR-Cas9 gene edits.
Related: Your Vital Research Data is Secure with Thermo Fisher Connect
Learn More: thermofisher.com/seqscreener – Sanger sequencing and fragment analysis for CRISPR-Cas9 gene editing confirmation and Applied Biosystems genetic analyzers.
Check out more posts like this one on our Behind the Bench blog.
References
Jansen R, van Embden JDA, Gaastra W, Schouls LM (2002) Identification of genes that are associated with DNA repeats in prokaryotes. Mol Microbiol 43(6):1565-1575.
Andersson AF and Banfield JF (2008) Virus population dynamics and acquired virus resistance in natural microbial communities. Science 320(5879):1047-1050.
Joint United Nations Program on HIV/AIDS (2020) Global HIV and AIDS statistics—fact sheet (https://www.unaids.org/en/resources/fact-sheet).
Hutter G, Nowak D, Mossner M et al. (2009) Long-term control of HIV by CCR5 Delta32/Delta32 stem cell transplantation. New Engl J Med 360:692-698.
Gupta RK, Abdul-Jawad S, McCoy LE et al. (2019) HIV-1 remission following CCR5∆32/∆32 haematopoietic stem cell transplantation. Nature 568:244-248.
Chavez LR, Reddy, NR, Raymond KA et al. (2020) Durable control of HIV-1 using a Staphylococcus aureus Cas9-expressing lentivirus co-targeting viral latency and host susceptibility. bioRχiν preprint (https://doi.org/10.1101/2020.08.10.243329).
Xu L, Wang J, Liu Y et al. (2019) CRISPR-edited stem cells in a patient with HIV and acute lymphocytic leukemia. New Engl J Med 381:1240-1247).