In the second of this three-blog series, Dr. Sasha Vlassov details the advancements of human microbiome research and its potential to revolutionize diagnostics and therapy.
The human microbiome is a community of microorganisms, including bacteria, archaea, fungi, protists, and viruses that live in the human body. It was one of the hot topics of research in the last decade- because it is largely a "new territory", with many unknowns and fascinating complexity, which instantly catches attention of the scientists working on fundamental research. Many medical specialists are actively studying microbiome due to numerous practical applications and potential to revolutionize diagnostics and therapy for many human diseases. Kits and tools provided by Thermo Fisher Scientific enable advanced microbiome research – allowing robust purification of RNA,DNA (see the MagMax Microbiome Ultra Nucleic Acid Isolation Kit) and downstream analysis.
Bacteria, Fungi, and Viruses in the Humane Microbiome
Bacteria are the best-studied members of the microbial community. The human microbiome includes approximately 100 trillion bacterial cells. Although the human body is made up of about 10–40 trillion cells, bacterial cells outnumber human cells by 3–10 fold. In addition to this bacterial population, the microbiome includes trillions of viruses (including bacteriophages), archaea, fungi and other single-celled eukaryotes. Viruses might outnumber bacterial cells, while fungal cells are present at levels orders of magnitude lower. Studying this environment sometimes requires isolation of individual microorganisms, which can be done with Dynabeads.
The amount of diversity at a gene level that this introduces is thought-provoking, whether one is thinking about horizontal gene transfer potential or just the extra proteins functioning in our gut (where most of human microbiome resides). Using the current assumption that the human genome includes about 20 000–25 000 protein-coding genes, all the bacteria, fungi, and viruses in one person's microbiome would be estimated to add another ~2–20 million. Thus, for every human gene there are up to 1000 non-human genes.
The mass this represents is impressive. Currently, it is thought the human body contains 2–5 pounds of microbes, constituting ~1–3% of our body mass. As much of this is in our gastrointestinal tract, which represents ~10% of our mass, it is not surprising that it can exert profound effects on our physiology and well-being.
Functions and benefits of Microbes within the Human Body
Of the presumably large number of functions and beneficial effects various microbes exert within the human body, only a fraction is understood at the moment. For instance, it is known that human microbes (1) prevent colonization by pathogens by competing for attachment sites and for essential nutrients; (2) antagonize competitors and foreign bacteria through the production of substances, ranging from relatively nonspecific fatty acids and peroxides to highly specific bacteriocins; (3) perform carbohydrate fermentation and absorption, enabling the host to utilize some normally indigestible carbohydrates; (4) synthesize and excrete vitamins in excess of their own needs, which can be absorbed as nutrients by their host (e.g. human enteric bacteria secrete Vitamin K and Vitamin B12, and lactic acid bacteria produce certain B-vitamins); (5) provide a continuous and dynamic effect on the host's gut and systemic immune systems; and (6) stimulate the development of certain tissues.
Microbiomes Influence Multiple Diseases
There is at least preliminary evidence showing that in these, as well as other yet-to-be-discovered interactions, the microbiome can influence multiple diseases, including inflammatory bowel disease, malnutrition, celiac disease, obesity, vaginosis, asthma, diabetes, cancer, pancreatic disease, allergies, neurological disorders, and heart disease. Whether dysbiosis or imbalance in our microbial populations is the cause, or effect, of each particular disease is a question in which future research will hope to gain insight.
Current experiments have shown that in some cases, manipulating the microbial population artificially to restore the balance can lead to novel cures. All microbes constantly excrete metabolites and secrete substantial amounts of small and large molecules, as well as vesicles containing RNA, DNA, and protein, which allows them to influence and communicate with their neighbors and their host. There are a number of Thermo Fisher Scientific kits and reagents than can help when extracting and purifying microbial DNA and RNA for analysis of microorganisms by sequencing.
For the gut microbial community, many of the substances secreted by microorganisms can pass through the gut wall and enter the bloodstream to be distributed throughout the body, causing effects on local and distal organs. There are intriguing indications that the gut microbiome may affect our sleep patterns, mood, eating behavior, and dietary choices.
Human microbiome is typically studied by Next gen sequencing (NGS) approach- with workflow including the following steps: sample collection (stool, saliva, urine, milk, or swabbing various surfaces); extraction of aggregate microbial DNA or RNA; and sequencing with subsequent data analysis.
Dynabeads Magnetic Beads used in Microbiome Research
One of the very important tools in microbiome research are Dynabeads magnetic beads decorated with streptavidin. They are used to bind biotinylated ligands such as antibodies or oligonucleotides. These "armed" beads can then be used to capture or purify any biological entity of interest. The avidin–biotin complex is the strongest known noncovalent interaction (Kd = 10–15 M) between a protein and ligand. Binding is very rapid, and once formed, is unaffected by extremes of pH, temperature, organic solvents, and other denaturing agents. If curious about this biotechnology, you can learn more about the types, performance and History of Dynabeads.
Isolate Any Biomolecule with Streptavidin-coupled Dynabeads
Streptavidin-coupled Dynabeads are used for instance for depletion of highly abundant ribosomal RNA from the samples, using complimentary oligonucleotide probes – to make other types of RNA readily available for NGS analysis. Dynabeads Streptavidin are also ideal for capture of low-abundance DNA and RNA from clinical samples using sequence-specific probes. The most widely use of Dynabeads Streptavidin is Next Generation Sequencing, where magnetic beads are utilized in several critical steps of the workflow.
Dynabeads Streptavidin are cited in over 30,000 peer-reviewed publications for microbiome and numerous other extremely diverse applications. More information can be found here: www.thermofisher.com/streptavidindynabeads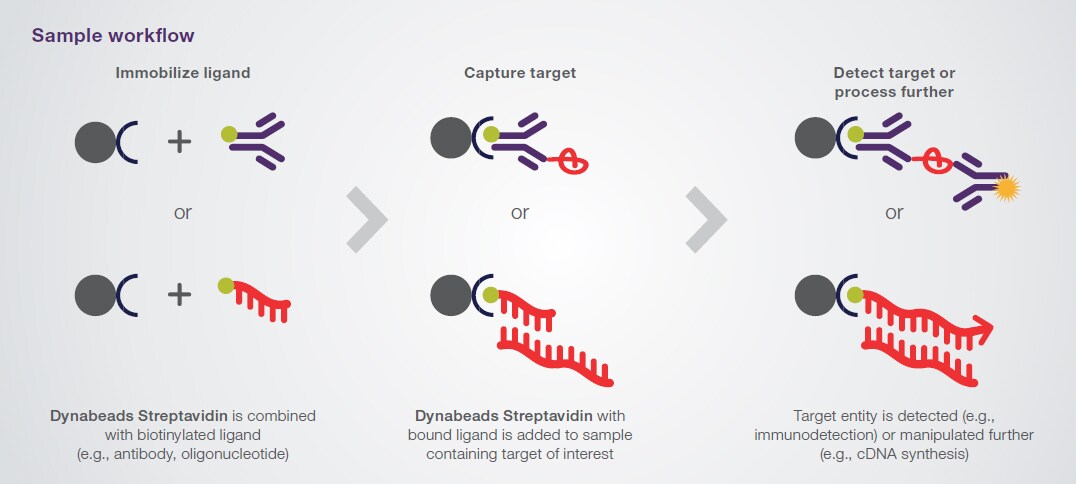 Dynabead Streptavidin is combined with a biotinylated ligan (e.g., antibody, oligonucleotide), then added to the sample containing target of interest. Target is detected (e.g., immunodetection) or manipulated further (e.g., cDNA synthesis).
Human Microbiome Research and Streptavidin Dynabeads
Overall, the entire human microbiome can be viewed as a very sophisticated additional organ (or set of organs – taking into account that there are many ecosystems throughout human body) having multiple local and systemic effects on the host. Development of new tools such as Streptavidin Dynabeads – allows to advance and accelerate microbiome research and, in addition to fueling basic studies, enables next generation diagnostics and therapies.
Read more about Invitrogen Dynabeads in the rest of our three-blog series:
For Research Use Only. Not for use in diagnostic procedures.