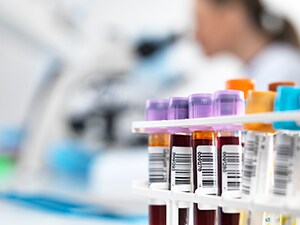 As the novel coronavirus SARS-CoV-2 began sweeping the world, researchers face new challenges as they realize how contagious it can be. A recent peer-review publication from Andrea Cossarizza, MD, PhD, Professor of Pathology, Immunology and Clinical Immunology, University of Modena and Reggio Emilia (UNIMORE), in Modena, Italy offers recommendations for lab workers on the frontlines seeking to gain control of the global crisis.
First, it's recommended that each facility define and characterize risks locally to address safety, security, or procedural vulnerabilities, and outline any new mitigation measures to be implemented. This includes handling, processing and all laboratory processes, procedures, and equipment used in testing SARS-CoV-2 positive blood samples.
Laboratories present two different dangers to workers:
working with infected blood samples
working in close contact with each other
Since spread of the virus is mostly spread person-to-person in aerosol droplets and can be spread by asymptomatic individuals, the researchers felt that working with viral RNA in blood samples was less of a threat than the possibility of infection by colleagues. Therefore, most of their safety modifications include distance and barriers. Whenever people must be near each other, even two people in the same room, they wear surgical masks.
Other safety measures taken include:
All lab personnel handling positive blood samples are thoroughly trained in safety measures
All lab equipment is up to date
Use of Class II biological safety cabinets (BSCs) with waste disposal containing 0.5% bleach
Lab doors are kept closed
Lab personnel make an effort to maintain a one-meter distance
One person in a room at a time
All laboratory workers wear proper personal protective equipment (PPE):
Gloves
Lab coats
The PPE never leaves the lab
When sample is handled and transported:
It is transported nested in two containers to prevent breakage
Opened inside the lab
People working with blood samples must:
Wear two pairs of disposable gloves, with the outside disposed of and replaced after each procedure
A laboratory coat
A surgical mask
Eye protection
Certain procedures can generate aerosols or droplets so extra precautions must be taken. Centrifugation, for example, is used to isolate PBMCs from peripheral blood. However, if the equipment is properly secured and sealed and every step taken to minimize exposure, it can be done safely. Only disposable plasticware and pipettes are used and then sent to internal waste. Before leaving, all surfaces are decontaminated by wiping them down with 0.5% bleach and then 70% ethanol.
Although it is not known if SARS-CoV-2 can infect PBMCs, it is advised to act as though it could. In flow cytometry analysis of cell phenotype, the technician must first isolate the PMBCs, stain them with monoclonal antibodies (mAbs), incubate them, then wash and fix. Once the sample data has been acquired, the flow cytometer is decontaminated for 15 minutes with 0.5% bleach, another 15 minutes with cleaning solution and finally 15 minutes with deionized water. The working area is disinfected, disposable materials are discarded into biohazard containers, and all work surfaces wiped down.
SARS-CoV-2 has been known to increase cytokine levels and create a "cytokine storm" in some cases. The cytokine storm is driven by and causes inflammation by producing molecules like interleukin IL-1 or IL-6 that are produced by a variety of cells. Andrea Cossarizza's hypothesis that the inflammatory or non-inflammatory interleukin molecules depend on which type of helper cell cytokines (TH) produces them. Hypothetically, TH1 could produce cytokines that are inflammatory, while TH2 produces cytokines that are less inflammatory. Investigating this theory could help with the management and understanding of COVID-19. The profiling of immune cells for their ability to produce TH1 or TH2 cytokines is done in vitro assay based upon isolation of PBMCs, stimulation with different stimuli, and quantification of intracellular cytokines.
The publication referenced this assay extensively with various stimuli, incubation periods in capped tubes. Once the samples were acquired, the quantification was done with the Invitrogen™ Attune™ NxT Flow Cytometer with Autosampler. They found that the assay could have importance in the response to viral infections that play a major defensive role and can perhaps predict the course of the infection.
The Attune NxT Flow Cytometer is indispensable nowadays because it is easily operated by one person and is clog-resistant. Using the Attune NxT Autosampler, walk-away automation increases productivity and decreases exposure risk. More and more labs are discovering the need for equipment that is accurate, easy to use, easy to maintain and easy to clean.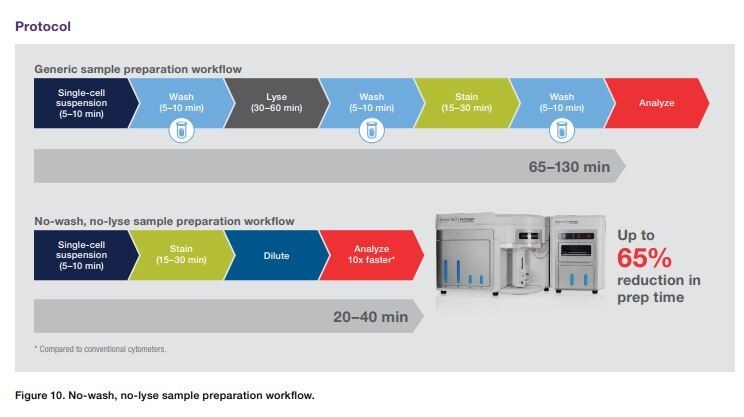 Please see the Attune NxT Flow Cytometer decontamination guidance in the SARS-CoV-2 Decontamination Guidance for Thermo Fisher Scientific Instrumentation.
Additional Blogs that may be of interest to you
Accelerate test development research for SARS-CoV-2
Reference
Cossarizza, A., Gibellini, L., Biasi, S. D., et al.  (2020). Handling and Processing of Blood Specimens from Patients with COVID-19 for Safe Studies on Cell Phenotype and Cytokine Storm. Cytometry Part A. doi:10.1002/cyto.a.24009
For Research Use Only. Not for use in diagnostic procedures.