Do you have a new science graduate student in your life? Itching to give them a thoughtful present this holiday season? In this article, we're here to offer insight and a range of "creative" gifts ideas for the hard-working  grad students in your lab! Let's begin:
First off, it's clear to us that most new grad students have one thing in common – they're insane! Who else would stay awake for three days straight to collect protein fractions because the automated fraction collector broke or spend a significant amount of their existence labeling little tubes with a laundry marker? But we think of it as a good kind of insanity – the kind that fuels progress in science from the frazzled neurons of their tired young minds and little tubes that were painstakingly and correctly labeled. :)
When thinking about sending a gift to the budding Nobel Laureates slaving away in your lab, take pity on them and give them something that will save them from the brink of vaporization (unrelated to the use of any laboratory equipment or being a paid volunteer for the Physics Dept. looking for a few human test subjects to sit in a strange underground chamber). If your new grad student has not been transported to other dimensions, courtesy of the Physics Dept., they will most certainly appreciate these gifts.
Gifts are ranked by budget, from nano to macro, and although we're sure that you'd love to gift on a macro level to your deserving grad students, the micro and nano options will be appreciated just as much, because it's the thought that counts after all.
Dental care
Give them the gift of keeping their teeth. They may have memorized all known metabolic pathways – but brushing and flossing is not on that chart. Living off the contents of the vending machines and never taking the time to floss can take its toll on their chompers. Would you want them to accept their Nobel Prize flashing a toothless smile?
Gift Ideas:
Macro budget: A paid visit to a local dentist in their university town or make an appointment with their own dentist when the grad visits home. Open your wallet and have the future Ph.D open their oral gullet to a D.D.S. Next to "Save the Whales," 'Save a Grad Student's Teeth' is another noble cause.
Micro budget: A mouth guard – stress is a daily reality; save their teeth by sending them a colorful mouth guard. During their time in grad school, jaw clenching grad students can experience about the same level of force hockey players experience smacking their jaws on the ice on a good play.
Nano budget: Variety of gum packs: minty, sugar-free, fruity –something to match their mood.
DO NOT send electronic toothbrushes – great contraptions like these will surely be used to clean laboratory equipment rather than be used for its intended purpose.
Food
Not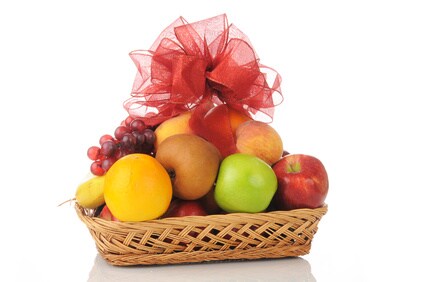 just any munchies, send them n-u-t-r-i-t-i-o-u-s munchies. Grocery shopping is not a standard activity for most grad students – they simply don't have the time. They live off of pizza, the contents of vending machines and whatever food is served at departmental social functions or any campus parties they crash. One may sustain life functions on a diet of Snickers and Swedish meatballs, but not for long. Like most scavengers, eating is a haphazard event and they may go for days or weeks without certain essential nutrients. Save your grad from a bout of scurvy or beriberi with THE perfect gift. Baskets of fresh fruits and veggies are the gift of health.
Macro budget: food baskets every month.
Micro budget: Call them up and ask what vitamin deficiency they are suffering right now and send the appropriate food group.
Nano budget: blueberry mini muffins.
Clothing
Those little splats and spills of lab chemicals that fall upon grad student clothing often result in strange holes appearing in the fabric when they're pulled out of the dryer. Another 'Mystery of the Universe' is the holes that make their way into the fabric of jeans and flannels assiduously covered with lab coats. Einstein could never explain it. And while going stark naked under the lab coat may sound sexy for about 5 minutes, it usually gets pretty chilly in most labs –just saying. Besides, when the senior post-doc yells for your grad student to take off the lab coat before they leave the lab (It's an OSHA thingy) stave off the social embarrassment of your grad student starting their science career as a flasher – give them clothes!
Macro budget: A big moola gift card for your favorite clothing store.
Macro budget: Take them on a shopping spree at a local mall; spend quality time with them and help them with color coordination. Discuss the importance of matching socks. No one has written a thesis on "The Importance of Wearing Matching Socks" – the world is still waiting for that one.
Macro budget: Buy them one good suit for "Interview Day" to help them snag that great job or to look good on the big day of their Thesis Defense. Clothes and good data make the scientist.
Micro budget: Underwear and socks. Get underwear that can be worn inside out…not sure if they're being eco-friendly or in a big rush, but there sure seems to be a lot of that going on in grad school these days.
Nano – Macro budget: Science-inspired clothing and accessories for your budding Bio-Dude or Bio-Babe – for THE Total Science look. Microbe sneakers, cell flip flops, DNA earrings, or if you're feeling really generous, a cell-inspired gown for your Bio-Princess or a periodic bow tie for your Bio-Dandy. (Links below)
DO NOT send them a generic bank gift card – they WILL buy lab supplies and reagents for one more experiment that would look good in their thesis. Their thesis may look great, but they still need to wear clean underwear.
Want to be listed in an Acknowledgement on a science paper or in someone's thesis? Be a major benefactor – pay for their tuition, rent, or, if you've got the moola, pay for everything. 300 years later folks are still reading Newton's writings and he named names. Be a footnote in history – a nice one! Let them feel the love – opening a wallet can do that. A line in the Acknowledgement can be rented out for perpetuity. It could be good for 300+ years.
Read….
"Special thanks to — (your name here) — for their generous support, the mass quantities of gum and help in matching my socks throughout grad school. I couldn't have done it without him/her."
You deserve the fame!
---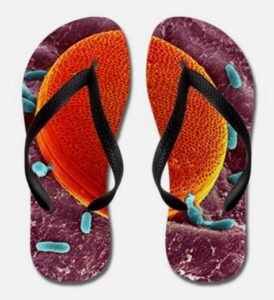 ---
This semi tongue-in-cheek post was created by none other than Cladonia Evans, Ph.D.