Call me nostalgic, but it's so nice to take a step back from our daily routines and take a breath to think of all the good times we shared together this year. Here are your top 5 favorite tweets of 2015.
1. Announcing the Ion S5™ launch.
The launch of the Ion S5 this year where we introduced our very new sequencer was your favorite. We've told you what the "S" in the Ion S5 means to us, we would love to hear your thoughts on what it means to you – be sure to share and join the conversation on the tweet below.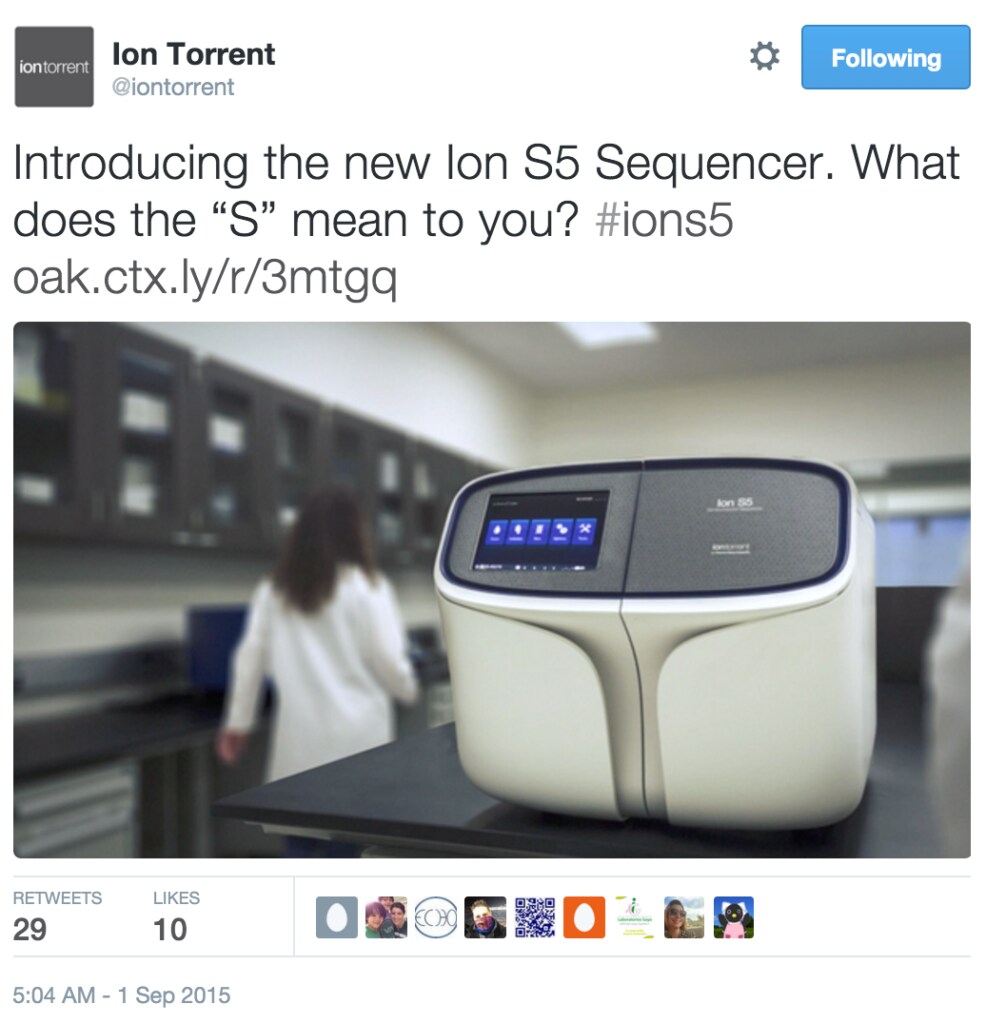 2. Ion PGM™ debuts in Jurassic World
It was great to see the Ion PGM make its debut in the blockbuster movie Jurassic World. The sequencer was fictitiously used to not only bring back other extinct dinosaurs but was also used to help engineer one of the movie's leading characters – the Indominus Rex.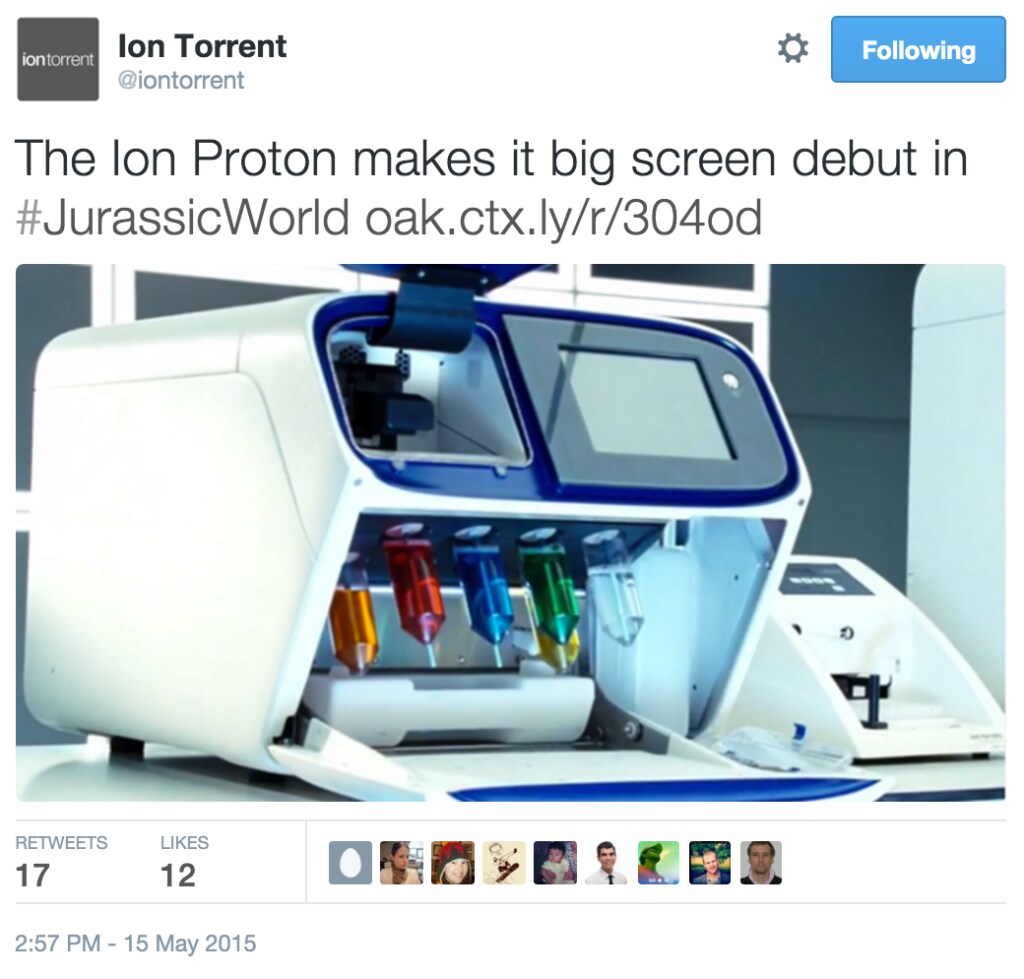 3. Dark Coffee decreases DNA breaks
A coffee a day can keep DNA breaks away? Coffee is already known for its antioxidant properties¹, but there weren't studies that explored the impact of consuming a dark roast coffee blend on the level of spontaneous DNA strand breaks. This year, in a study, Bakuradze et al (2015) show consumption of dark coffee DNA was more stable with fewer strand breaks compared to individuals that consumed water instead.  
4. Mark Gardner's Open Letter about the Ion S5 launch
Mark Gardner the general manager of Ion Torrent, wrote an open letter regarding the Ion S5 launch. In his letter, Mark Gardner also shares, "the S is for sequencing for all". You can read the letter here.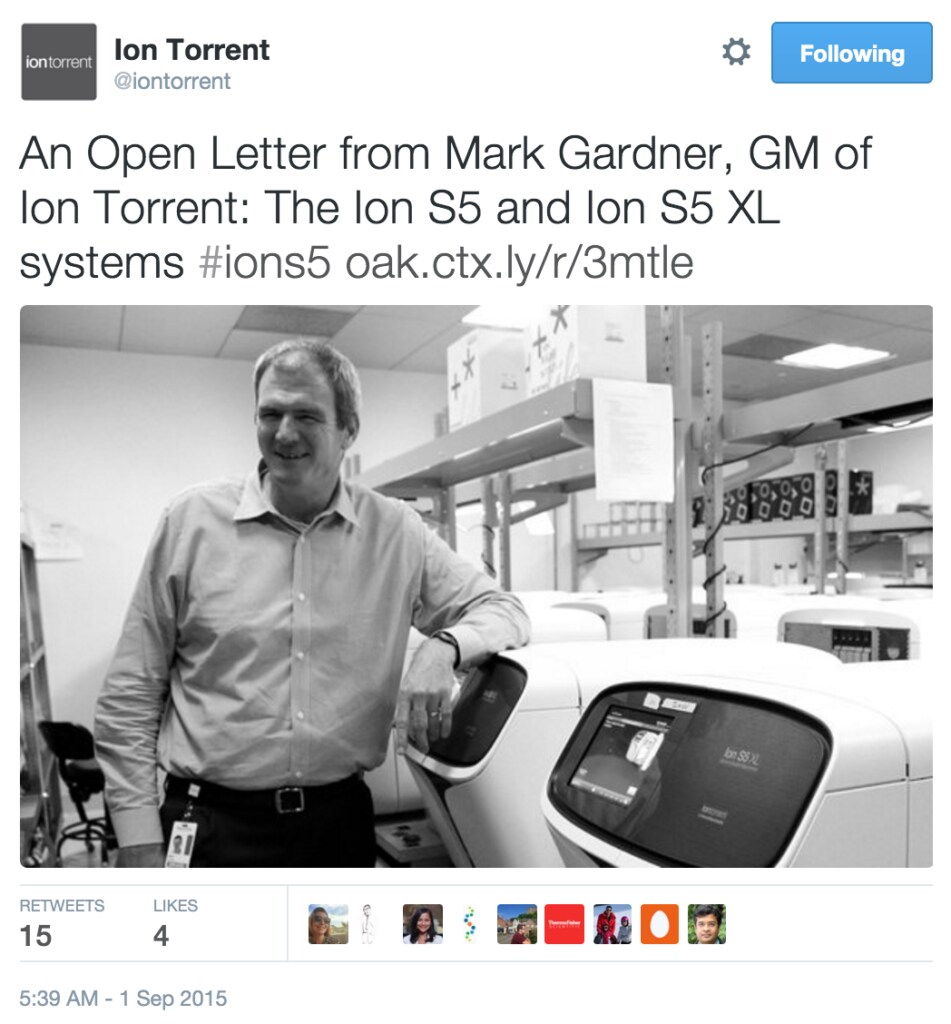 5. Dr. Goodfellow sequencing Ebola in Sierra Leone
Professor Ian Goodfellow from the University of Cambridge set out on a journey to Sierra Leone, West Africa to study the Ebola virus in real-time during the outbreak. You can read Dr. Goodfellow's story here.

These are just some of the moments we shared that you liked. Sharing is caring, so please be sure to share this news and we look forward to sharing more memories with you in 2016.
---
References:
1] Bakuradze, T., et al. "Consumption of a Dark Roast Coffee Decreases the Level of Spontaneous DNA Strand Breaks: A Randomized Controlled Trial." Eur J Nutr 54.1 (2015): 149-56. Print.