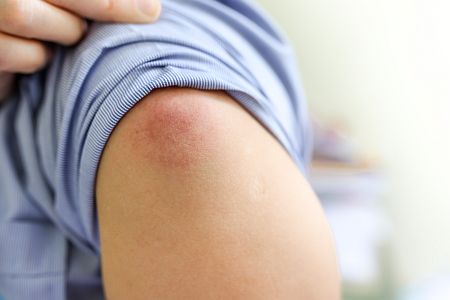 Biomarker discovery to understand adverse events from immunotherapy is an important part of immuno-oncology research, and polymorphisms within the T cell receptor beta (TCRB) gene has been proposed as a possible indicator. Immunotherapies are a type of treatment that stimulates our immune system to fight cancer, but side effects may occur putting the rest of the body at risk. T cells are an important part of our defense against disease, helping to regulate immune response and even directly attacking foreign bodies such as cancer. In many types of cancers, checkpoint proteins on the tumor cell surface can interact with T cells and prevent them from attacking. Treatments such as checkpoint inhibitors (CPI) can block this interaction and restore activity against cancer cells. However, this may also promote the attack of healthy tissue and elicit immune-related adverse events (IRAEs). Can T cell receptor (TCR) sequencing studies help researchers understand potential adverse events from immunotherapies?
TCRB Polymorphism Research
One straightforward approach to try and understand TCRB polymorphisms would be to perform whole genome sequencing (WGS) using next-generation sequencing (NGS). However, this has proven difficult and WGS has yet to identify potential biomarkers for several reasons. The TCR locus is highly repetitive and complex, making it a challenging gene to sequence with short reads. Identifying single nucleotide variants and determining alleles in the TCRB locus also requires an accurate NGS solution.
In a recent paper, Looney et al. (2019) demonstrated the use of targeted TCR sequencing to successfully identify alleles and haplotype 81 Caucasians using RNA from peripheral blood samples. Using Ion Torrent sequencing technology and the Oncomine TCR Beta-LR assay, the authors found the long-read sequencing capabilities allowed them to overcome the challenge of analyzing the complex TCRB locus. The low substitution error rate also allowed the researchers to accurately identify polymorphisms and discover novel TCRB alleles not found in existing databases. The 81 individuals were partitioned into several major haplotypes and as far as the authors know, this is the first NGS-based effort to analyze the TCRB locus at haplotype-level resolution.
There is now a targeted NGS solution to better understand TCRB polymorphisms and while there is more work to do, researchers can take a closer look to see if there is a potential link with IRAEs and help to address it. Identifying biomarkers and continual research advancement could potentially enable a more personalized drug selection, making future immunotherapies safer and more effective.
Learn more at www.thermofisher.com/immune-repertoire
Read the paper: Looney TJ, et al. (2019) Haplotype Analysis of the T-Cell Receptor Beta (TCRB) Locus by Long-amplicon TCRB Repertoire Sequencing. J Immunother Precis Oncol 2019 2:137-43.
For Research Use Only. Not for use in diagnostic procedures.