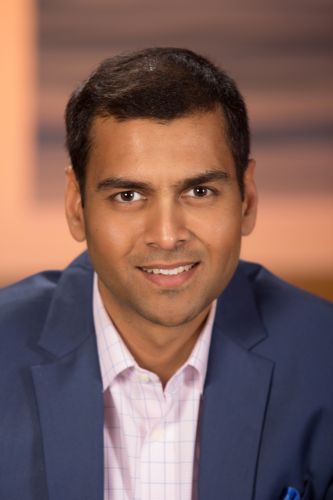 The U.S. Food and Drug Administration's (FDA) approval of the Oncomine Dx Target Test marks a significant milestone in testing options for non-small cell lung cancer (NSCLC) patients and the oncologists who treat them. As next-generation sequencing-based genetic testing is more widely adopted to help aid in selecting targeted NSCLC therapies, this comprehensive test now serves as a relevant solution to help expedite that process moving forward.
The Oncomine Dx Target Test detects multiple genetic mutations and alterations simultaneously in tumor samples from patients with NSCLC, enabling labs to deliver results in a matter of days instead of weeks. This is a critical advantage that can help oncologists more quickly identify and prescribe the most appropriate therapy.
The new test is the result of a first-of-its-kind collaboration between Thermo Fisher Scientific and two of its pharmaceutical partners, Novartis and Pfizer. We sat down with Joydeep Goswami, president of Clinical Next-Generation Sequencing and Oncology for Thermo Fisher Scientific, to discuss the challenges and the insights from the three-year process that led to the FDA's landmark approval.
What was the catalyst that brought the pharmaceutical partners and Thermo Fisher together for this endeavor?
Three years ago, Pfizer and GlaxoSmithKline were looking at targeted therapies and how to stratify patients better. What they realized is that in many cancers, especially non-small cell lung cancer, patients were not getting the right treatment fast enough because they were being screened using the traditional sequential testing method where tumors are tested for mutations one at a time. Since cancer is very much a multi-gene disease, not all the relevant mutations were necessarily getting detected by the existing detection paradigms. So a panel-based strategy that can look at multiple genes at the same time was very important in getting faster, more comprehensive results. To non-small cell lung cancer patients, receiving results quickly may have a significant impact on treatment selection and add potentially after treatment selection to quality of life.
We began having conversations initially with Pfizer and GlaxoSmithKline (GSK subsequently sold its oncology portfolio to Novartis) following the selection of our Ion Torrent-based next-generation sequencing technology by the National Cancer Institute (NCI) for use in the NCI-MATCH program. The largest precision medicine study of its kind in the U.S., this program is currently assigning participants to nearly 20 treatment arms based on targeted sequencing data of their solid tumors.
The efficacy of the Ion Torrent platform led to our partnership with the pharmaceutical companies to develop a test that Thermo Fisher submitted to the FDA for the purposes of detecting NSCLC-specific gene mutations.
There are several historical components to this partnership. It's the first, multi-biomarker product designed for selection of mutations associated with NSCLC. It's also the first time multiple pharmaceutical companies with multiple therapies came together to partner with a diagnostic company. This is now leading to a change in the screening paradigm, from single-marker testing to multiple-marker screening with a single test.
Considering this type of partnership was uncharted territory, there must have been challenges along the way. What were some of them?
I have to give credit to Novartis and Pfizer. Remember, these are companies that compete in the same space for the same customers, so they had to get over that hurdle. But they saw the potential of precision medicine and were determined to work through the challenges. Also, approval of the drugs and the companion diagnostic are granted by two separate groups within the FDA, CDER and CDRH, respectively. We worked with our pharma partners and the branches of the FDA to provide a holistic and aligned view of the opportunities and responses to the FDA's requests.
Again, this being a first multi-marker oncology IVD, the level of validation that we needed to provide to the FDA was really unprecedented. There were many pre-submission conversations we had directly with the FDA, and in combination with our pharma partners, to identify the really difficult hurdles we had to overcome during this process. Further, we needed to determine potential paths to overcome these hurdles while still maintaining a high level of consistency and safety required by the FDA. Finally, all three companies had to maintain a level of confidentiality so not to share information that may be considered of competitive value to the other pharma partner.
What were the common goals that made this work worth pursuing?
First and foremost, each of the partners was fully committed to the benefits this would bring to patients, including faster selection of NSCLC targeted therapies with a single test and enabling lower overall costs. Secondly, we knew that we had to present an aligned view across the therapies and the diagnostic test to the FDA to help them understand the impact of this novel technology in the context of a companion diagnostic and to expedite approval. I really have to give a lot of credit to the FDA as well. Given the breakthrough nature of the technology involved, the agency worked closely and very interactively with us to ensure the product was meeting the requirements necessary for a companion diagnostic Class III medical device.
Can this collaborative effort serve as a model for companion diagnostic development partnerships moving forward?
Absolutely! Despite all the progress we made, development of an NGS companion diagnostic is expensive and there are economies of scale involved that may substantially reduce the time and energy required to get these tests to market. If we have a consortia of pharma partners to develop new NGS tests on the platform we've already validated, it would be helpful to get these new tests to patients faster while also keeping development costs for the consortium partners down. The more comprehensive the FDA-approved companion diagnostic IVD test is in terms of matched drugs, the more value patients can get from a single test.
Another important point is that the Oncomine Dx Target Test has been developed to be expandable. It was designed with 46 genes to target most of the known driver mutations for multiple cancers that could be targeted by drugs in development or in clinical trials. Thus, use of the same panel may in the future be expanded to work as a companion diagnostic for other drugs, and potentially for cancers beyond non-small cell lung cancer. Of course, we still would need to go through the FDA submission process, but we anticipate this to be less time-consuming and less expensive than the first submission.
Is Thermo Fisher exploring more companion diagnostic development opportunities?
Yes. We have several in the works, including our recent announcement to develop and commercialize a targeted NGS companion diagnostic with Agios Pharmaceuticals. We believe now that the assay is approved, more pharma companies will explore such partnerships. At this point, there is a bit of a wait-and-see approach, which is understandable because this project was the first, multi-biomarker NGS IVD product going in front of the FDA and was considered risky by a lot of companies. We have now proven that paradigm and I think this is the right time to accelerate its adoption by taking advantage of the work that has been accomplished on the Ion Torrent PGM Dx platform and the Oncomine Dx Target Test. As I've mentioned already, these additional partnerships are working to address cancer types beyond lung cancer.
Tell us why this type of test makes more sense today?
Through scientific discovery and with the development of new drugs, we are learning to associate more driver mutations that have specific available drugs associated with them. So it is really important that we bring these developments to patients at the start of their diagnostic process to help more quickly select the appropriate targeted therapies. This may best be done with a multi-gene test rather than taking the traditional sequential testing approach.
So, I expect targeted next-generation sequencing to become even more relevant as additional targeted therapies come on line. The FDA's recent approval of a targeted therapy based on tumor genetic profile as opposed to where a tumor originates is a clear indication of where diagnostics is heading. It also underscores targeted NGS's relevancy today and moving forward.