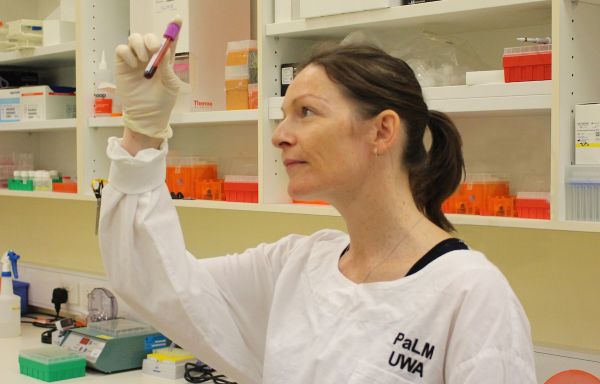 Katie Meehan
Scientific lead, Translational Cancer Pathology Laboratory
School of Biomedical Sciences, University of Western Australia
Tell us a bit about your current research.
Katie Meehan: We are conducting research to try to develop a blood-based test that accurately and sensitively is able to detect breast cancer relapse and monitor patient's response to their treatment.
Exosomes, we are finding, are far more robust than circulating cell-free DNA. What I mean by that is these exosomes are vesicles that have quite a fat lipid bi-layer around the outside of them, which enables them to protect their molecular cargo.
So what our research has done is look at the DNA content of the exosomes and by applying next-generation sequencing to that DNA, we have been able to show that we can detect the mutations in samples from the blood of patients with breast cancer that are tumor specific and that reflect the response of these patients to their treatment.
For example, when patients respond to their treatment, the mutations that we were once able to detect when their disease was rampant, are now undetectable. Even more excitingly, we have been able to show that, unfortunately for those patients that do have progressive disease or relapse, at the time-points we collect blood from those patients, we were able to detect new mutations in the exosomes, and we believe this reflects disease evolution. So really that is the crux of what we are doing and the peak of the results we have to date.
What problems did we have in the past that we have resolved today with this kind of technology?
KM: Absolutely, level of detection. The sequencing technologies that are now available can cope with the small levels of input that are typically available from sources such as cell-free DNA and exosomal DNA. In addition, the types of sequencing methods that are available now can cope with the fragmented nature of the DNA that is inherent with cell-free DNA, and indeed, to a lesser extent though, exosomal DNA. They are both quite fragmented, and with the sequencing technologies now it's not a problem, as the amplicon sizes are much smaller, so they can cope quite well with fragmented material. These are the biggest issues that were problem in the past and are absolutely resolved today.
When do you think these tests will become available to the common public?
KM: Good question. Really, we are only testing in a pilot cohort, so it is a number of years away before it will actually be available. But we are hoping to complete the pilot study by the end of next year. But to the general population, it will still be a couple more years before that's ready.
With your NGS experience, what do you like about the Ion Torrent NGS system you have currently? How has it helped improve your research?
KM: It has helped because we have been able to work with very little material. So every sample we get from these wonderful women who participate in our study are so precious and we cannot afford to have these wasted on technology that fails.
The system that we have in-house is very robust. It has been very reliable and the stringent criteria that we use when we analyse the data has shown the power of the platform that we have got. There are pros and cons to all the different platforms that are available, and for the work that we have done, we have deliberately made a conscious choice to go down this pathway just for the robust nature of it. That is the key thing.
We have the ability to generate reliable data from low input material. And, the platform is able to navigate fragmented material. That's critically important for us because the majority of research in this area uses fragmented material.
I need a platform that can deal with all of that and the Ion Torrent system does.
What work from your perspective still needs to be done to move your understanding of the field forward?
KM: Keep on doing what we are doing. We need to get a really solid base of samples in the study. We have the samples en route now; it's more a matter of finishing the sequencing and analysing the data.
Once we have got that together, the next step will be (depending on what avenue we take) developing it into a test with the biotech company that can be rolled out. However, even before that, this entire study I have done will have to be validated in a large study, and most likely a multi-centre study, where we would be looking at doing it at different sites throughout Australia.
Then we will be working closely with the clinicians to tailor the data we have got to see what type of clinical questions it can answer. We need to keep on that clinical trajectory to make sure the research answers questions that need answering, and I think too often that gets missed.
Your work is cutting edge. How do you think this will impact future generations of scientists?
KM: Hopefully it will inspire them to do research that is hard, that the hard stuff is not something to shy away from. I think the generation of researchers coming through now are happy to work hard, but if the answer to the actual question that they are asking is not obvious it is going to require significant thought and development. Hopefully, what I have done will inspire them to go past what they might feel comfortable with.
For Research Use Only. Not for use in diagnostic procedures.