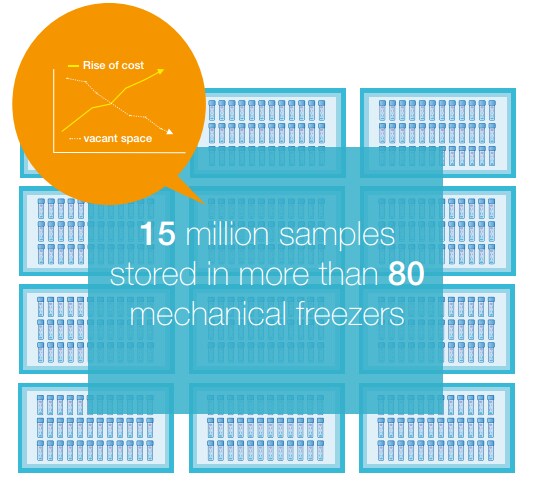 You don't often see "-80°C" and "walk-in" in the same sentence. At that temperature (only 10 degrees warmer than the coldest recorded temperature on earth, and even colder than the balmy -57°C mean temperature of Antarctica), exposed skin can freeze in minutes. Why, then, would a biobank need a -80°C walk-in freezer?
Well, as it turns out, walk-in freezers have several advantages over their mechanical counterparts. These benefits apply to all walk-ins, regardless of temperature, and could be enough to convince a biobank to use a -80°C solution.
         Space efficiency. Space to store samples is at a premium in a biobank, and a single walk-in unit can replace several chest or upright mechanical freezers. With less space devoted to compressors and ventilation, there's more space for preserving valuable specimens.
         Flexible configuration. Sincethere are fewer space constraints in a walk-in, samples of different sizes can be stored in a way that makes the most sense.
         Reduced maintenance costs. With a central walk-in freezer, maintenance schedules for several mechanical freezers can be reduced to one.
         Perfect for low-activity inventories. Biobanks that need to store samples and not access them frequently can benefit most from a walk-in freezer. The space efficiency and flexible configuration make walk-ins the perfect candidate for long-term storage.
Despite these advantages, however, building a -80°C walk-in freezer can pose significant challenges when compared to standard 4°C or -20°C walk-in units. For instance, biobanks using -80°C walk-ins need to pay special attention to:
         Employee safety. While exposure to -20°C is safe with proper protective gear, -80°C can be dangerous to staff in a short time regardless of clothing. When properly outfitted in personal protective equipment, technicians will start to feel their fingers and toes tingle within a few minutes. Soon after, their nasal passages will start to swell shut. This severely limits the time employees can spend working in the freezer at ultra-low temperatures.
         Maintaining -80°C. Temperatures may fluctuate if the freezer door is frequently opened, leading to short working periods and long wait times between being able to move samples in and out of the freezer.
         Detailed standard operating procedures. Because of the previous two points, access to -80°C walk-ins can be limited to short periods throughout the day. Employees have to be extremely efficient and have a detailed plan of what samples they are going to move before entering the freezer. To ensure employee and sample integrity, biobankers must track/monitor the location of every sample in storage and be sure new locations in the freezer are empty.
Overall, the benefits of a -80°C walk-in freezer outweigh the costs only under very specific circumstances, and for most applications, standard mechanical freezers are the best option for ultra-low temperature storage. Stay tuned, though. In an upcoming post, I'll describe how Thermo-Fisher Scientific overcame the challenges listed above and designed an innovative -80°C walk-in solution for a customer.