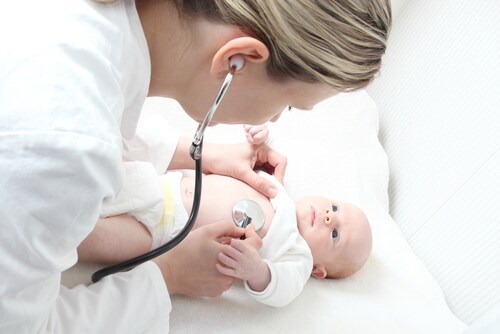 Congenital heart disease (CHD) occurs in approximately 1% of live births and is the most frequently encountered birth defect. Early diagnosis means that 90% of infants with CHD survive. However, many suffer from long-term complications. Furthermore, researchers do not have any prevention strategies for CHD in pediatric patients, compared to adults. Next-generation sequencing (NGS) provides a new opportunity to understand molecular and genetic mechanisms that cause CHD; however, studying CHD in infants is nearly impossible without biobanking, because it is still a rare disease. Pickardt et al. (2016) describe the CHD-Biobank, established in 2009, which aims to collect DNA from patients, their parents, and affected families, as well as cardiovascular tissues from patients undergoing corrective heart surgery for cardiovascular malformations.1
The CHD-Biobank is part of the National Register for Congenital Heart Defects (NRCHD), in Germany. The NRCHD is a core facility for the German Competence Network for Congenital Heart Defects (CNCHD). The Network Management Office (NMO) manages and coordinates both entities, and is responsible for patient registration, administration and consent management. It is also responsible for sample collection, clinical and phenotype data validation, and research and study management, as well as network communication and database operation. The CHD-Biobank is managed by eight institutions: the departments of pediatric cardiology and/or heart surgery at the university hospitals of Kiel, Erlangen, Freiburg and Homburg; the University of Leipzig Heart Center; the Heart and Diabetes Center North Rhine-Westphalia; the German Heart Center Munich; and the German Heart Institute Berlin.
Pickardt et al. explain that the biobank protects personal data using primary patient codes, which are kept in a separate database to prevent unauthorized access to reidentifying information. The NRCHD has also implemented a Web-based patient information platform to allow patients to stay up to date with the biobank's research activities and withdraw consent at a later time if they choose to.
The CHD-Biobank records personal data, including name, date of birth, sex, contact details, familial status and relations, place of birth, and nationality, as well as medical and phenotype data, such as maternal age at birth, gestational age, multiple pregnancies, birth weight, prenatal CHD diagnosis, all congenital and cardiovascular diagnoses, procedures, and additional diseases and disorders. The data is coded according to the International statistical classification of diseases and related health problems, 10th revision, and the International Paediatric and Congenital Cardiac Code. Biological samples include blood, saliva and cardiac tissue, which is collected during open heart surgery.
To manage sample quality, the CHD-Biobank uses uniform protocols and workflows, guideline-based patient contact and on-site visits by NMO staff members at least once a year. NMO team members also provide regular support to staff members involved in the CHD-Biobank.
Researchers requiring samples need to submit a research proposal to the NMO, which the scientific board evaluates. The board consists of experts in (pediatric) cardiology, epidemiology, human genetics, basic research, biometry/statistics, and ethics and health care law. The CNCHD steering committee and representatives of the institutions where the samples have been collected make the final decision regarding sample applications.
At present, the CHD-Biobank collection comprises DNA samples from 4,602 donors, including 2,928 affected donors. More than 70% of donors are under 18 years of age. Thus far, the CHD-Biobank has provided 1,588 DNA samples from affected and non-affected donors, as well as 36 tissue samples from heart surgery, for research studies.
Reference
1. Pickardt, T., et al. (2016) "A biobank for long-term and sustainable research in the field of congenital heart disease in Germany," Genomics, Proteomics & Bioinformatics [Epub ahead of print].