Malignant melanoma is a deadly cancer that has been increasing in frequency around the world. Unfortunately, most tumors are resistant to chemotherapy and very difficult to treat once metastasized.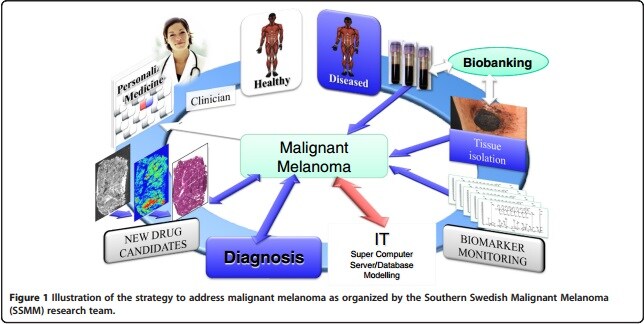 The incidence of malignant melanoma in Sweden is among the highest in the EU, and so perhaps it's no surprise that an inter-disciplinary team of doctors and researchers has formed the Southern Swedish Malignant Melanoma (SSMM) group, which is dedicated to improving malignant melanoma prevention, diagnosis and treatment. More specifically, SSMM recently published its plan to contribute to melanoma research through the establishment of a top-of-the-line biorepository. In this new biobank, blood, serum and plasma will be stored in high-density 384-tube racks and maintained at -80°C. Robotic handling will be used at every step in the process, i.e., pipetting robots will fill the 384-tube racks with small aliquots of blood, and automated retrieval robots will fetch the exact single-use samples needed for an experiment. In addition, a Laboratory Information Management System (LIMS) will integrate all components of the biobank and provide a standardized way to enter clinical information about each sample. The highly automated design of this biobank will ensure it complies with standardized operating procedures published by the National Cancer Institute, and it's worth noting that sustainable and standardized sample storage is especially important for a new biobank because it can take months or years to build a large enough collection for analysis. Once the SSMM biobank is up and running, researchers will use the samples to explore a variety of critical questions surrounding malignant melanoma:
What genes and messenger-RNA transcripts are found in melanoma cells?
What proteins are expressed in melanoma cells? How do these differ from the RNA transcripts?
How could drugs be used to interact with or inhibit proteins associated with melanoma?
Can a patient's family history or other clinical factors be used to predict the occurrence of melanoma?
The breadth and depth of this research project depends on a unique collaboration between researchers and doctors from many different fields. The SSMM group includes:
physicians who evaluate and diagnose malignant melanoma patients,
surgeons who remove cancerous tissues,
wet-lab researchers who run genomic and proteomic assays, and
bioinformaticians who interpret the significance of the massive amounts of data generated by the biobank.
As we've discussed in earlier blog posts, other biorepositories are using similar inter-disciplinary approaches. For example, lawyers and scientists are working together at the Global Genes, Local Concerns biobank in Copenhagen to develop ethical and moral guidelines for biobanking in the future. New collaborations like these can bring fresh ideas and problem-solving methods to the table – something we hope is successful for all malignant melanoma patients.