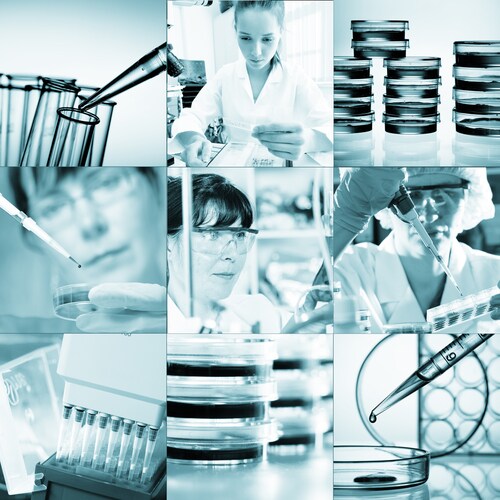 Looking back and reflecting is often a valuable aid to learning. This is exactly what De Souza and Greenspan (2013) have done in their handy review of biobanking over the last 30 years.1 Referencing their own experience with the University of California, San Francisco AIDS Specimen Bank (UCSF ASB), the two authors cover the basics in biobanking history to show how these repositories developed and how they serve the needs of scientific research.
What Is a Biobank?
In their introduction, the authors first describe what a biobank is and then define the scope of their review. Focusing only on biobanks that store human specimens, De Souza and Greenspan delineate a biobank's functions as those associated with maintaining its purpose: solicitation, collection and processing of biosamples, onward storage, and distribution of the samples and associated data.
Biobank Taxonomy
As a useful characterization for the reader, the authors categorize biobanks under the following headings in approximate order of chronologic development:
Academic/university-based repositories, possibly the first biobanks in existence, developed almost exclusively around single-project goals and research requirement
Institutional- or government-based biobanks that hold greater numbers of samples for a wider research purposes
Commercial/for-profit biorepositories
Population-based biobanks, where long-term sample acquisition from broad populations enables longitudinal studies such as disease monitoring, aging studies and biomarker discovery
Virtual biobanks that hold no physical specimens but offer location and retrieval services for samples held globally or nationally
Another method for classifying biobanks is to describe them according to type of specimen or research focus. Under this taxonomy, biobanks either focus on a specific disease, as in the UCSF ASB, or they have a wider mandate as a population-based repository, such as the United Kingdom's UK Biobank or the Danish National Biobank. Biobanks may contain DNA/RNA genetic materials, single sample types from a specific tissue or multiple samples from a wide variety of sources. They can also be under institutional/federal control, allied to commercial resources or virtual, as discussed previously.
Biobanking Science and Technology
In their review, the authors note that with the evolution of the different types of biobanks and improvements in associated technology, data complexity has also increased. The data accompanying each sample used to consist of name, date and clinical details. However, with the advent of the numerous omics fields, including proteomics and genomics, the data file per sample is much larger, necessitating improvements in communication for terabytes of data storage and retrieval.
With improvements in biobanking technology, new areas of science have emerged, such as biorepository and biospecimen science, where research into issues such as optimal storage conditions and sampling consistency aim to improve sample quality. Biobanks, as they grow larger and more complex, employ robotic sample handling and processing, alongside software specifically designed for storage management in their facilities.
Biobanking Consistency
As biobanking moves from single-center to multi-institution resources, it has developed best practices, standard operating procedures (SOPs) and other methods for ensuring quality control, quality assurance (QA) and sample integrity. Ensuring standardized collection, processing and storing conditions maintains collaborative research efficiency for collecting reliable and meaningful data.
SOPs and QA guidelines are developed, managed and disseminated by committees overseeing development, such as the International Society of Biological and Environmental Repositories (ISBER), the National Cancer Institute's Office of Biorepositories and Biospecimen Research (NCI OBBR) and the Rand Corporation. Institutional bodies such as the UCSF Institutional Review Board also provide oversight. Other bodies are developing certification for biobanks and biorepositories.
Ethics and Legalities
In addition to advances in technology, the authors also note that regulations concerning ethics, legal issues surrounding consent and onward responsibilities to the individual donor have also evolved. National or institutional committees handle oversight for most of these matters locally. However, collaboration through virtual biobanking requires close scrutiny of these issues to ensure cross-institutional compliance with relevant legislation.
In their review, De Souza and Greenspan neatly summarize how biobanking has dealt with advances in technology, growing research demands, and the evolving legal and ethical issues surrounding donor involvement and protection, showing how the industry is moving forward as an important part of health science research.
Reference
1. De Souza, Y.G., and Greenspan, J.S. (2013) "Biobanking past, present and future: Responsibilities and benefits," AIDS, 27 (pp. 303–312), doi:10.1097/QAD.0b013e32835c1244.