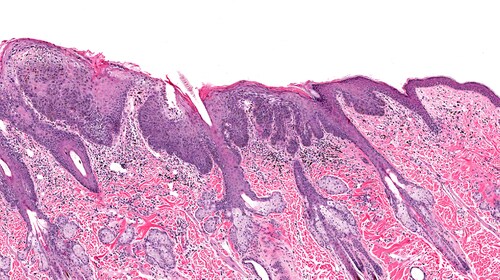 Tower et al. (2014) recently investigated the impact of warm ischemia on changes phosphorylated biomarker expression in tumor biopsies.1 Their results are surprising and definitely worth taking note of, especially if you routinely biobank tissue samples for future studies.
Worried about the inconsistency and variability in studies hunting for reliable prognostic biomarkers in cases of head and neck squamous cell carcinoma (HNSCC), the research team wondered if sample collection and processing protocols could provide the answer. Although HNSCC is a common pathology, no one has yet found a reliable indicator for prognostic outcome. Cases frequently present at an advanced stage, complicated by local and distant recurrences, as well as tumor metastasis. Without a good biomarker for the disease, it is not possible to offer personalized therapeutics or predict prognosis.
Tower and colleagues concentrated on phosphorylated biomarkers, reasoning that tyrosine kinases are good therapeutic targets in other cancers and probably show potential in HNSCC. They wondered if these biomarkers were sensitive enough to subtle changes in biopsy collection protocol to bias data outcomes.
The research team focused on the transition from surgical excision to cryopreservation, noting the impact of warm ischemia on phosphorylated biomarker abundance. Working with a surgical team, the researchers collected 33 tissue biopsies from 11 tumors (five confirmed HNSCC cases), timing from the moment of excision to eventual freezing for storage at -80°C.
In tandem with cryopreservation, the team also prepared samples in formalin for formalin-fixed paraffin-embedded (FFPE) sections. For this, once surgical biopsies were collected, they were fixed in formalin either immediately after collection (time 0) or after 90 minutes at room temperature (warm ischemia).

Tower et al. examined the frozen tissues with standard histological assessment to delineate the areas of cancer cells for further investigation. Once defined, they excised the tissue to extract proteins for sodium dodecyl polyacrylamide gel electrophoresis (SDS-PAGE), then used western immunoblotting to visualize phosphorylated biomarker levels.
Concentrating on three specific phosphoproteins, the researchers found reduced abundance in pAkt and pERK after 30 minutes and 90 minutes of warm ischemia. At 30 minutes, levels of pAkt decreased by 44.9% compared to those seen at 15 minutes (p = 0.045) and remained reduced at 90 minutes. Levels of pERK followed a similar pattern, in that abundance had decreased to 63.6% at 30 minutes and to 48.2% at 90 minutes (p = 0.008). Levels of pStat-3 did not decline significantly with warm ischemia.
Levels of the non-phosphorylated proteins did not change significantly over the time course of the experiment, except for an initial decline in ERK at 30 minutes (-26.7%; p = 0.044), which was not maintained at 90 minutes. The team did not note any significant deterioration in RNA quality as measured by RIN values of nucleic acid extracts.
The research team confirmed the pERK results using the FFPE specimens for immunofluorescence studies. These showed a dramatic decline in abundance with 90 minutes of warm ischemia.
In retrospect, the team felt that their results could explain inconsistent findings in various studies looking at prognostic indicators and tumor characterization. As a consequence, they advise teams involved in biobanking tumor biopsies for biomarker research to pay close attention to tissue-harvesting protocols, designing them to ensure minimal ex vivo ischemia prior to fixation or freezing.
Reference
1. Tower, J.I. et al. (2014) "Impact of warm ischemia on phosphorylated biomarkers in head and neck squamous cell carcinoma," American Journal of Translational Research, 6(5) (pp. 548–557).