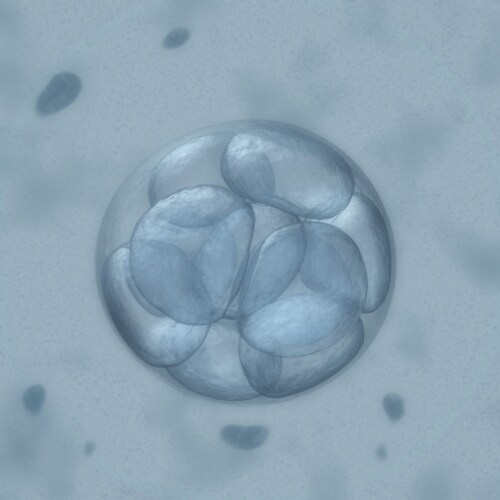 Human tissue biobanking creates a range of ethical, legal and social (ELS) challenges. Biobanking eggs and embryos introduces further unique challenges beyond those of other tissues. There are ethically challenging decisions relating to access and distribution of surplus cryopreserved eggs and embryos. These can be made by individuals at in vitro fertilization (IVF) clinics or by centralized biobanks that serve to collect, store and distribute eggs and embryos to researchers. Decision-making by biobanks regarding embryos and eggs is not universally implemented. Stroud and O'Doherty (2015)1 explore the governance challenges that research biobanks for eggs and embryos may face if they are established in Canada.
Eggs and embryos with the potential for use in research are those that have been collected during the IVF process, or embryos that have been created during IVF that have not been implanted. There is controversy around using human embryonic stem cells, those that are derived from a human embryo, because it requires destruction of a human embryo and thus, according to some, destruction of a human life. In Canada, research using human eggs and embryos is governed by the Canadian Institutes of Health Research (CIHR) Guidelines for Human Pluripotent Stem Cell Research and the 2nd edition of the Tri-Council Policy Statement: Ethical Conduct for Research Involving Humans (created in 2014 by the CIHR, the Natural Sciences and Engineering Research Council of Canada, and the Social Sciences and Humanities Research Council of Canada). These documents stipulate that eggs and embryos can be used for research only if they were originally created for reproductive purposes and if free and informed consent is obtained from each of the gamete donors.
There are a number of widely recognized ELS challenges associated with biobanking human tissue, and each has implications for banking eggs and embryos:
Informed consent: Consent guidelines in Canada specify that consent needs to be sought from both gamete donors, and both must give their consent for the embryos to be used in specific studies. Therefore, a biobank specific to eggs and embryos would need to develop a re-consent model for biospecimens for every study that wishes to use them.
Privacy: Long-term storage of biospecimens carries an inherent risk of privacy breaches. Important considerations include not just the donor but also direct relatives, because information about genetic predispositions can be derived from biobanked materials. There are similar privacy concerns regarding genetic disposition

for eggs and embryos and the biological relatives of the gamete donors.

Furthermore, some individuals may request privacy around their use of IVF clinics or the fact that they donated eggs or embryos for research.
Incidental findings: This is less relevant in the case of eggs and embryos. In biobanking of other tissues, there is some debate as to whether there is an obligation to inform donors of incidental findings that could affect their health. However, in the case of embryos and eggs, Stroud and O'Doherty argue that as the findings do not relate to an existing living individual, the impetus to return incidental findings is dramatically reduced.
Ownership: In this instance, embryos are implicitly not viewed as persons.
The authors propose three principles for establishing ethically sustainable biobank governance for eggs and embryos:
Trustworthiness: Oversight committees and ethical review boards are important for holding the management of biobanks accountable to lay stakeholders, particularly research participants, on the governance boards.
Collectivity: Biobanks should seek public engagement and dialogue to incorporate larger societal interests and values.
Adaptivity: Biobanks collect samples for use in future research. Therefore, it is challenging to obtain truly informed consent at the time of collection. The governance structure of biobanks for eggs and embryos thus needs to be adaptive and reflexive to emerging issues.
Stroud and O'Doherty suggest that acknowledging and respecting public values and beliefs on such topics as health, privacy and the symbolic value of human reproductive materials is crucial to good governance in biobanking. Implementation requires mechanisms within governance structures for collective decisions and meaningful public engagement.
Reference
Stroud, K. and O'Doherty, K.C. (2015) "Ethically sustainable governance in the biobanking of eggs and embryos for research," Monash Bioethics Review [Epub ahead of print].