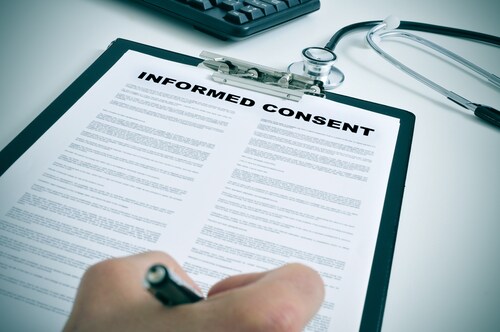 In order to build up a biobank, researchers first need material to put into it. Collecting non-human specimens is relatively simple, bound only by experimental design, specimen availability and in vivo ethics. However, collecting specimens from our own species is complicated.
Traditionally, human biobank specimens have come from blood samples, biopsy specimens, and other biomaterials collected for clinical investigation or as part of a study. In the past, most donors knew at the point of collection that they were donating for scientific research, while patients understood that their sample was for disease diagnosis, monitoring treatment and so on. Using leftover samples in other studies was common in the past, although such use was unstated and many patients were probably unaware of the persistence of their samples. This situation is illustrated most notably by the decades-long use of HeLa cells.
However, the issue of ethics and consent surrounding storage of biomaterials in biobanks now causes concern. Before collecting and storing a sample, clinical or otherwise, biobankers must ensure that the individual donor knows what is happening. In recent medical history, the act of donation has moved from uninformed and unknowing, as in the use of tissue and sample surplus to diagnostic needs, to requiring informed consent that covers studies planned and extending into the future.
Although opt-out biobanking exists, donors still need to understand what their samples will be used for in the short term. With the successful long-term storage of biomaterial and rapid development in experimental technology, they also need information on the potential implications of studies unimagined when the donation was initially banked.
As we've discussed previously, donors contribute for a variety of reasons, so keeping them satisfied and well-informed is a large part of the process in maintaining a healthy biobank. Not attending to this aspect of biobanking can be troublesome, to put it mildly.
Beskow et al. (2014) recently attempted to characterize just how much of the consent procedure a participant donor should understand before their choice to donate can be described as adequately informed.1 Seeking consensus opinion and approval, the researchers surveyed biobank expert users, including managers, genome scientists, ethicists and community representatives, to formulate guidelines on what constitutes adequate comprehension.
The researchers recruited 61 experts for the consensus gathering, maintaining a 92% retention rate through the numerous rounds of survey of the experimental design. Using a Delphi process, a communications strategy designed to achieve consensus opinion among a number of experts through survey and reflection, Beskow et al. defined what constitutes adequate comprehension and what is required before potential donors can arrive at an adequate level of understanding.
Beskow and co-authors asked the experts to supply feedback on a series of questions based on model consent language, indicating what they thought the donor should answer in order to satisfy the criteria for informed consent. In summary, the experts were asked to provide a key against which donor responses could be compared to assess their degree of comprehension.
In each round of survey questions, the experts reflected on and developed their answers in response to anonymized information from the group process as a whole. The experts then rated the responses proposed on a scale of one to four to indicate how closely they agreed with adequate comprehension. Once they reached consensus, defined as >70% agreement, the experts moved on to the second and then third round of the survey.
As the survey progressed from round one to round three, the responses became more quantitative, thus allowing the research team to evaluate how important the experts felt it was for donors to fully understand a particular point in the consent process.
Eventually, the experts achieved consensus in 15 of the 16 topics considered important for informed consent. These topics included Certificates of Confidentiality, Blood Draw and Access to Biospecimens/Data. However, they were unable to reach a consensus for statements regarding the Genetic Information Nondiscrimination Act (GINA), and they expressed doubt as to whether donor comprehension in this area was essential for informed consent.
The researchers believe that the data emerging from the Delphi process supplies a standardized tool for assessment that will greatly help to define what "informed consent" means. Furthermore, Beskow et al. suggest that the results will also help others design better consent forms to ensure that individuals taking part in any form of research fully understand their involvement.
Reference
1. Beskow, L., et al. (2014) "Informed consent for biobanking: Consensus-based guidelines for adequate comprehension," Genetics in Medicine, doi: 10.1038/gim.2014.102.