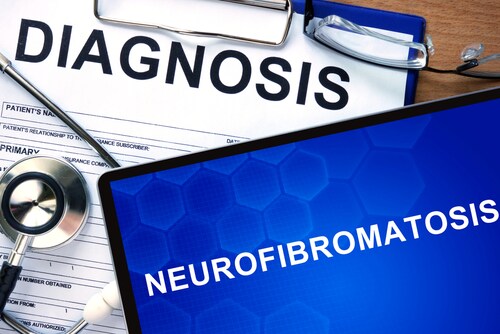 Neurofibromatosis is a group of neurocutaneous syndromes characterized by progressive, lifelong and potentially life-threatening complications. There are three genetically distinct forms of neurofibromatosis: neurofibromatosis 1 (NF1), neurofibromatosis 2 (NF2) and schwannomatosis (SWN). Hanemann et al. (2016) set out to pool existing NF1, NF2 and SWN biomarker data to identify gaps, and to make recommendations for ongoing biomarker development from a collection and standard operating procedures standpoint. The authors are part of a larger biomarker group for NF1, NF2 and SWN, collaborating with the Children's Tumor Foundation.
There is a high degree of disease variability between the three neurofibromatosis conditions, in terms of both phenotype and tumor behavior. Consequently, identifying biomarkers is complex. A particular biomarker could correspond with the genetic syndrome itself, one of the specific tumor types that patients with these conditions are prone to, a non-tumor symptom, cumulative disease burden, disease progression and so on. There is overlap between the syndromes and their phenotypes. At this stage, all of the published biomarker studies for neurofibromatosis have been performed for NF1. There are no published data on biomarkers in NF2 or SWN.
The following are findings from biomarker studies:
| | |
| --- | --- |
| Diagnostic biomarkers | Predictive and pharmacodynamic biomarkers |
| Higher melanoma inhibitory activity (MIA) | Candidate genes: SOX5, NOL1, MLF2, FOXM1, FKBP1, CDK4, TSPAN31, ERBB2, MYC and TP53 |
| Higher adrenomedullin (ADM) | Aurora kinase A |
| Higher serum fetal antigen 1 | Survivin (BIRC5), thymidine kinase 1 (TK1) and topoisomerase 2-a (TOP2A) immunohistochemical staining of malignant peripheral nerve sheath tumors to split patients into high and low risk |
| Higher serum soluble growth factor receptor Axl (sAxl) | Lower blood circulating levels of hepatocyte growth factor |
| Significant differences in interleukin-6, interferon-γ, epidermal growth factor receptor, tumor necrosis factor–α, insulin-like growth factor binding protein 1 and RANTES | |
| Survival in NF1 patients with methylated or unmethylated RASSF1A at five years | |
| miR-204 downregulation in patients with NF1 with malignant peripheral nerve sheath tumors | |
Hanemann et al. identified low prevalence as a potential challenge for biospecimen collection. Nonetheless, they recommend the following goals to move biomarker study forward:
A prospective biorepository
Standardization of tissue collection
Agreement on a minimal clinical data set for sample annotation
Incorporation of existing biorepositories with a decentralized biorepository
Open access
Implementation of an executive committee to oversee the biorepository
Incorporation of biomarker collection into clinical studies
Incorporation of biomarker collection into routine clinical visits
Based on existing biomarker data for neurofibromatosis, the authors suggest that future studies include data on clinical presentation and validate existing biomarker candidates. Furthermore, future studies should explore cDNA, cRNA and circulating tumor cells as biomarkers. Overall, this study provides a set of guidelines for clinicians and researchers to collect and store biospecimens for NF1, NF2 and SWN.
Reference
1. Hanemann, C.O. (2016) "Current status and recommendations for biomarkers and biobanking in neurofibromatosis," Neurology, 87(7 Suppl 1) (S40–48), doi: 10.1212/WNL.0000000000002932.