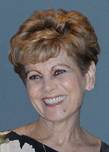 The Rare Diseases Human Biorepositories/Biospecimen (RD-HUB) is a searchable database of biospecimens collected, stored and distributed by biorepositories in the United States and around the world.
Recently, Yaffa Rubinstein, PhD, Director of Patient Resources for Clinical and Translational Research Office of Rare Diseases Research (ORDR) at the National Center for Advancing Translational Sciences (NCATS) and the National Institutes of Health, answered a few questions about RD-HUB and the research it is enabling.
Q: In the past, it has been difficult for researchers to make progress on rare diseases. What obstacles stood in their way?
Dr. Rubinstein: Yes, researchers have faced many challenges when studying rare diseases. First of all, rare diseases are . . . well, "rare." By definition, they have a low prevalence, and patients are scattered over large geographical areas. And unfortunately, out of the 7,000 rare diseases only a small fraction have patient registries, of which some are duplications of the same disease, others do not make data available for all investigators and many are established on different platforms using different terminology. This make it very difficult to share and exchange data and to develop studies in a meaningful way. There is a need to collect data from the various diseases into a large data base in a standardized manner to be available to all investigators to develop different studies, conduct clinical trials and do analyses within and across diseases. In addition, there are few clinicians with disease-specific expertise. There is a real need for global collaboration and data sharing.
Q: Is that kind of global change happening?
Dr. Rubinstein: Fortunately, it is. There is growing recognition that rare diseases represent a global public health issue. In April 2011 the European Commission launched the International Rare Disease Research Consortium (IRDiRC) in collaboration with the US National Institutes for Health (NIH) and other countries. One of the main goals of the IRDiRC is to develop drugs and therapies for 200 rare diseases by 2020.
Q: That's an ambitious goal!
Dr. Rubinstein: True, but we can achieve it given the technology that's available to us today and with increased levels of data sharing and collaboration. At The Office of Rare Diseases Research at NCATS/NIH we have initiated a program called the Global Rare Disease Patient Registry and Data Repository (GRDR), to create a resource of aggregated de-identified patient information from rare disease patient registries linked to biospecimens. The key is that the information will be collected and aggregated in a standardized manner using Common Data Elements (CDEs).
Once aggregated, this information will available to all investigators to develop many biomedical studies including clinical trials, translational research, comparative effectiveness research and analyses of data across many disorders. Ultimately, that will lead to drug developments and therapeutics for the millions of rare disease patients.
Q: What role does the RD-HUB play?
Dr. Rubinstein: The RD-HUB provides a centralized database of biorepositories and biological samples. The database includes all 7,000 rare diseases and each disease is linked to disease information at the Genetic and Rare Diseases (GARD) Information Center, which provides free access to timely, reliable information about genetic and rare diseases. The RD-HUB database serves as a portal for investigators searching for biospecimens and for biorepositories to enlist their resources and increase their awareness among the users. In conjunction with the GRDR program, where patients' data are coded and assigned with Global Unique Identifiers (GUID), investigators can search the RD-HUB by the GUID for patients whose medical data are stored in the GRDR. The link between the patient data and biospecimens is very important because it provides additional information and presents a more complete picture of the patient datathat is being used for the various biomedical studies.
Q: And technology is what makes this possible?
Dr. Rubinstein: Advances in data management and analytics are helping us combine information and look at it in new ways. Plus, biobanking technology allows us to collect, store and handle biospecimens that are essential for this kind of work in more effective ways. You need biospecimens – such as samples of blood, skin, hair, tissue, etc. – from the patient for research or to understand the pathogenesis and the biological nature of a rare disease. The biospecimens are necessary to develop a biomarker and develop genetic testing as a diagnostic tool that can help patients.
Q: That's the bottom-line: the patient.
Dr. Rubinstein: Exactly. The focus always has to be on how to help the patient. At RD-HUB, we want to accelerate research for rare disease patients, and with today's technology, we can. Many rare disease patients are children, and often their stories are heartbreaking. When you see the face of the patient, you understand what this research is all about.
Q: What is your advice to new biobanks and researchers new to the industry?
Dr. Rubinstein: Don't try to do it yourself. Reach out to people who have established biobanks before, because there are many lessons learned the first time around and fellow biobankers tend to be more than willing to provide advice. For instance, you need to think about the long-term future: Will you have the funding to sustain a permanent biobank? You need to collect, store and handle the samples. There are many regulations, ethical and legal issues that one needs to be familiar with. That's the sort of questions and information that experts can help you with.