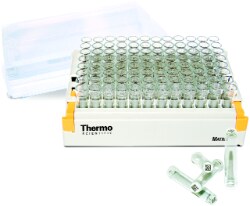 Cryopreservation, the storage of biomaterials at temperatures low enough to arrest cellular processes while maintaining integrity and stability, is a cornerstone of modern biobanking. In addition to considerations such as choice of equipment and method, selecting the appropriate storage tube is equally important for success. Used correctly, cryopreservation ensures materials are unchanged from when first harvested, and reduces pre-experimental sample variability by ensuring sample quality.
Samples routinely processed for cryopreservation include biological fluids such as whole blood or plasma, cell cultures, tissue specimens, and genomic materials such as DNA. Choosing the right storage tube requires knowledge of the biospecimen and its intended use, in addition to a clear understanding of cryopreservation technology.
So how do you choose? Here are a few factors that can help.
Glass or plastic?
It is worth knowing that glassware cools more rapidly than plastic, a factor that may also be relevant when thawing out biospecimens.
When cryopreserving cells, it is important to ensure that the sample cools at a suitable rate. Managed correctly, a cooling rate of approximately -1°C per minute gives optimal dehydration and reduces intracellular water content, which can form damaging ice crystals. Although most cells and tissues cope well with freezing, embryos, as multicellular specimens, require special care during cryopreservation and thawing; selecting the right storage tube is therefore important.
Another factor to consider is the duration of storage: how long will you keep the sample? To avoid sample loss, check that the tubes you are using are durable and designed to withstand low-temperature storage without failing.
Vial, ampoule, straw or plate?
The most commonly used sizes of ampoules and vials are around 1.2 mL to 2 mL in volume, suitable for samples sized between 0.5 mL and 1 mL. One factor to consider is whether you need tubes with screw-on lids (internal or external threads) or caps for closing the container.
It is also important to think about the type of sample you will be handling: how will it be stored and retrieved? For example, embryos are usually stored in straws, whereas some materials fit better into microtiter plates, and biofluids are usually aliquoted into sample tubes.
Other considerations include technique and handling; for example, glass ampoules may require appropriate heat treatment that individually seals the contents, whereas multiple tube systems benefit from automated bulk capping systems.
Low or ultra-low: Liquid nitrogen or freezer?
Biospecimens kept in liquid nitrogen have different needs compared with those stored in low-temperature freezers. Ideally, keep samples in the vapor phase of liquid nitrogen to avoid contamination and minimize temperature fluctuations. Choose ampoules and vials that are cryotolerant and can withstand extreme low temperatures without cracking.
If using glass, make sure that it is flamed correctly when sealing. This avoids leaving microchannels that allow liquid nitrogen to enter, which in addition to being a source of contamination is also an explosion risk due to rapid gas expansion during thawing.
How many samples?
Maximizing storage space by ampoule or vial choice makes sense. For example, storage tubes that fit into canes make the most of available space inside liquid nitrogen tanks and make retrieval safe and easy, whereas microtiter plates are ideal for rack systems and boxes.
Safety and biohazards
As mentioned previously, liquid nitrogen presents additional concerns with the risk of explosion when thawing samples. In addition to badly prepared glass ampoules, plastic tubes with screw-top lids are also susceptible to liquid nitrogen penetration via the thread itself.
If vials or ampoules need to be stored in the liquid phase, consider wrapping them in a protective film like Thermo Scientific's CryoFlex wrap, which stops liquid nitrogen coming into contact with the tube itself. Avoiding contact with liquid nitrogen not only cuts down on sample contamination, it also contributes to biosafety by protecting staff from exposure to exploding biohazardous materials.
Labeling and identification
Finally, optimize the retrieval process by making sure that the storage vials and ampoules chosen can be labeled efficiently. Selecting consumables that are easily labeled speeds up retrieval and minimizes temperature fluctuations for valuable samples.
Choose vials and ampoules that match your barcoding or label readers for inventory management. Make sure that storage consumables integrate well with any automated systems you use to manage your biobanking procedures.
In summary, choosing the right storage media for your samples is an important first step in cryopreservation. Investing time and thought in this step will not only maximize viability and recovery, but will also benefit researchers who gain from reliable access to high-quality samples.
Further reading
A guide for proper cryogenic preservation, written by Frank P. Simione, M.S. of the American Type Culture Collection (ATCC) in cooperation with Thermo Fisher Scientific
Resources from Thermo Scientific