Maintaining mutant mice is both an alliterative statement and a specialized endeavor. Once genetically modified, the mutant line is a uniquely valuable tool for research, but keeping the breeding line going requires dedicated facilities and intense husbandry. However, it is also possible to maintain a line by cryopreserving sufficient genetic material, namely spermatozoa and pre-implantation embryos, to allow revitalization on demand.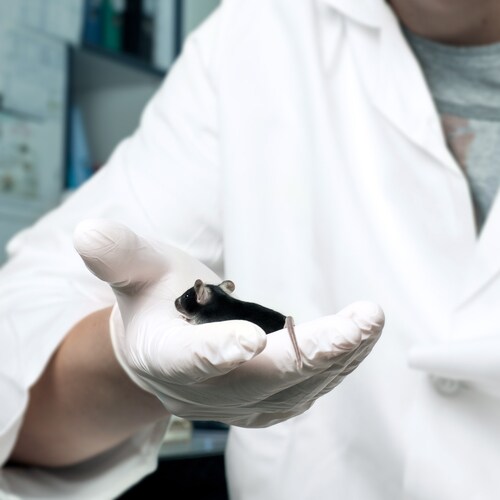 Ramin et al. (2014) explored the stability of such cryopreserved genetic material, comparing revitalization rates for pre-implantation embryos stored in-house and imported with embryos created by in vitro fertilization using cryopreserved spermatozoa.1 They also assessed the potential for transfer of pathogenic material and contaminants with these processes.
The researchers collected in-house materials from colonies of mice maintained on site. The mice were both wild type (various strains, each representing the genetic background of the corresponding mutant line) and genetically modified (various modifications). The researchers used standard procedures to obtain the genetic material for cryopreservation in-house, harvesting 8-cell embryos by flushing oviducts and collecting spermatozoa post-euthanasia as per normal husbandry methods.
Ramin et al. stored materials in an appropriate medium contained in cryotubes and straws immersed in the liquid phase of liquid nitrogen (LN2). The team prepared the permanent freezers used for storage, including the Thermo Electron Cryo 200 (Thermo Scientific), with several consecutive decontamination steps prior to receiving the samples. They stored in-house materials for up to 158 months.
Ramin and coworkers revitalized the cryopreserved material using standard methods and ensuring sterile conditions where possible. The researchers obtained cryopreserved embryos from commercial sources for comparison, storing and revitalizing them as per the supplier's instructions.
Following revitalization, the research team obtained revitalization rates of 93.82% for in-house pre-implantation embryos and 73.73% for those that had been imported (p = 0.03). Revitalization was also higher for in-house embryos than for those derived from in vitro fertilization (p = 0.001). There seemed to be no significant difference with duration of storage.
As a quality check, Ramin et al. genotyped offspring derived from all sources of cryopreserved material. They found an under-representation of the correct genotype, leading them to conclude that not all males used in the process had been correctly characterized prior to breeding.
Another interesting observation the research team made involved the presence of contamination in the storage procedure. Reassuringly, the researchers did not find contamination by bacteria, mouse pathogens or environmental contaminants within the cryopreserved samples. However, they did isolate molds, yeasts and bacteria from shipping containers and permanent freezers, even when liquid nitrogen covered the area. To confirm that microorganisms could survive in the liquid phase of LN2, Ramin and coworkers grew Citrobacter freundii and Staphylococcus aureus in these conditions.
In conclusion, the authors recommend cryopreservation as a valuable tool for maintaining mutant mouse lines and facilitating exchange between institutions. However, they advise that shipping should be expedited to speed transport, ensure optimal storage conditions in transit and improve embryo revitalization rates. Furthermore, they note that in order to maintain genetically pure stock, regular genotyping should take place, especially in animals used for re-derivation and breeding.
On the subject of potential contamination, although they only detected one instance of a dangerous mouse pathogen during the experimental workflow described in their paper, Ramin et al. strongly advise proper isolation facilities, quarantine and attention to hygiene when introducing genetic material into a facility.
Reference
1. Ramin, M. et al. (2014) "Stability of cryopreserved samples of mutant mice," Biopreservation and Biobanking 12 (pp.343–50).