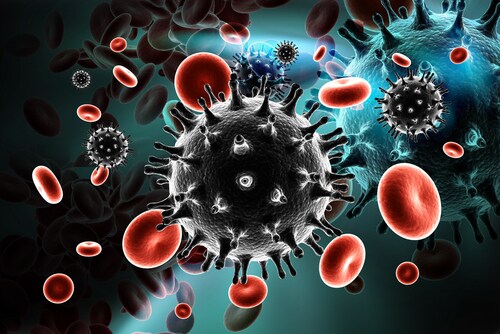 The University of California, San Francisco AIDS Specimen Bank (UCSF ASB) is a disease-specific biobank. It started in 1982 and has been running successfully for over 30 years. Authors De Souza and Greenspan (2013), who are directors of the facility, used the biorepository as a working example in their paper summarizing biobanking history (reviewed on this blog).1
When the ASB opened in December 1982, it took in 25 samples. In its 30 years of operation, as reported in De Souza and Greenspan's paper, the biobank has handled more than 463,000 samples in storage. Moreover, the ASB is responsible for shipping 500,000 vials or biospecimen equivalents worldwide for human immunodeficiency virus (HIV) research. The ASB was established as a response to the growing AIDS epidemic in an effort to provide resources to identify causative agents and potential therapeutic targets, and has since grown and fostered the global HIV research community.
The authors attribute the success of the ASB to several factors:
         rigorous quality controls
         effective and dynamic biobank management

         successful community building
Quality controls
The ASB ensures the integrity of the valuable samples that are available to global collaborators by implementing strict quality control standards and protocols for sample collection, storage and access. Furthermore, stringent acceptance criteria plus institutional review board (IRB) legal and ethical oversight mean that only good-quality samples with relevant donor consent and accompanying clinical data come into the biobank from study sites. De Souza and Greenspan note that these measures all help to reduce pre-analysis variability of samples.
Through this oversight procedure, biobanking staff can monitor each step of sample collection to ensure compliance with good practice as set out in SOPs (standard operating procedures). For example, the ASB refuses entry to samples that have been repeatedly freeze/thawed, collected incorrectly or shipped without suitable protective packaging. When the ASB receives damaged samples, it sends feedback to study site operators, alerting them to the failures so that they can correct their own procedures. As another quality control, the ASB does not accept returned samples from external labs unless they provide documentation of good laboratory practices and meet its minimum acceptable standards for handling.
The ASB also uses established workflows to manage sample requests from and shipping to external collaborators.Once the IRB approves the study request, trained and certified ASB staff withdraw, catalog and prepare the samples for shipping. They track the package until arrival so they can respond swiftly to delivery failures and correct deficiencies.
Biobank management
In addition to sample handling SOPs and workflows, the UCSF ASB implements sound biobanking management practices. These cover administration, sample management and staff training, with protocols adjusted as needed to cope with dynamic changes in research practices and technology. On top of this, IRB oversight extends to biobank regulatory committees governing biosafety, radiation safety, animal safety, human research and sponsored research.
Other measures include:
Sample storage
The ASB maintains wireless, web-enabled monitoring for its ultra-low and liquid nitrogen freezers, both on-site and remote. This monitoring gives a good record of temperature fluctuations and alerts management to potential failures.
Staff training and certification
Staff workshops and training supplement the established workflows for sample collection, preparation and storage. The ASB runs programs for new investigators when required.
External quality assurance monitoring
In conjunction with established SOPs, the ASB takes part in external quality assurance monitoring schemes. It ships cryopreserved peripheral blood mononuclear cells (PBMC) for regular viability and recovery assessment in a scheme run by the Adult AIDS Clinical Trials Group Immunology Quality Assessment Program (IPA). To date, ASB PBMC results show high-quality cell viability and recovery.
Community building
Building on its contributions to early research into the AIDS epidemic, when samples from the biobank were instrumental in determining the etiology of the disease, the UCSF ASB continues to be a valuable supporter of the global HIV research community. By ensuring the high quality of samples available, it facilitates collaborative translational research that benefits AIDS patients and their clinicians. In addition to working with clinical investigators, the ASB has also partnered with biotech firms to develop diagnostic materials. Furthermore, training initiatives and publications such as the 2005 guidebook for researchers2 help foster both new and experienced researchers in the field.
Though the rate of sample deposition has steadied in the last decade, sample withdrawals remain high, suggesting that the UCSF ASB will continue to be a valuable biobanking resource for AIDS research into the future.
References
1. De Souza, Y.G., and Greenspan, J.S. (2013) "Biobanking past, present and future: Responsibilities and benefits," AIDS, 27 (pp. 303–312), doi:10.1097/QAD.0b013e32835c1244.
2. Friend, S., et al. (2005) "UCSF guide for the research use of human biological specimens: collecting, banking, and sharing specimens."