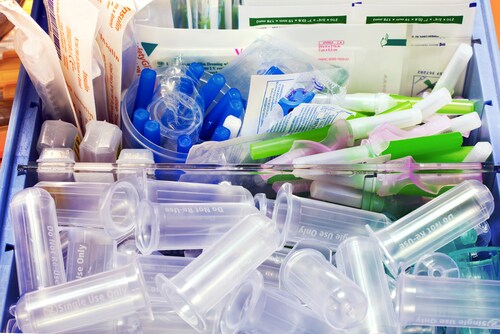 For many researchers, selecting a sample collection kit is one of the first steps in beginning a small- or large-scale clinical study/biobanking project. Deciding how to go about collecting and storing patient/donor samples is paramount to ensuring the success of future assays, and there are a lot of factors to consider. Commercially available collection kits are a good option, but some researchers may prefer to rely on bulk collection supplies. To help make this weighty decision a little easier, Scott A. Hixson and Ian E. Southerland recently coauthored a free e-book describing the pros and cons of using collections kits from Fisher BioServices.
The authors maintain that any variability in samples can alter data and affect the final results. They explain that collection kits aim to reduce variability by including standardized equipment and materials with instructions on how to best use the equipment. Kits can also simplify data collection through custom-printed IDs, bar codes or Quick Response (QR) codes that link the sample to the patient and their participant ID, consent form, biospecimens, assay results and questionnaire responses. Researchers might also include the return shipping information complete with the specified courier service and delivery time at the lab. During transit, packing materials such as custom-molded foam forms will ensure fragile items stay protected.
Another option described by the authors is to buy collection supplies in bulk. With this option the standardization is lost, but this may be less important because some supplies, such as bandages and needles, are already considered standard equipment. In these cases, if one item is damaged, there are others readily available. This is an advantage over collection kits. Depending on the supplies or reagents in the kit, if one component is missing, damaged or past its expiration date, the entire kit must be thrown out. The downside to relying on bulk supplies is that care must be taken to ensure the supplies are properly stored and refilled when needed, which requires time and possibly additional personnel to manage.
Some suppliers, such as Fisher BioServices, a Thermo Fisher Scientific brand, offer a combination approach, with the ability to purchase both kits and bulk supplies. For example, a phlebotomy blood collection kit might contain pre-labeled collection tubes, cryovials and transport tubes but also contain bulk supplies such as Vacutainer holders, needles, alcohol swabs and bandages. Limited bulk supplies are also included in case less common components are damaged. possibility of linking to the kit collection video?
The authors present custom-made kits as another satisfactory solution. The custom kits can also be tailored to fit the individual needs of each investigation. For this option, an investigator works directly with a vendor to understand the protocols and predict the supplies needed. Investigators working with Fisher BioServices can generate and assign patient/sample identifiers using the bar codes/QR codes to integrate patient information associated with the experiments. After approval by the investigator, labels and packaging can be printed using whatever format or label stock needed to withstand possibly harsh storage conditions. For experiments sensitive to contamination, the vendor will coordinate and pre-screen the kit containers and other supplies either in-house or in an independent laboratory to ensure the contents are free of contaminants.
Fisher BioServices can also help determine when kits should be made and delivered. Since fresh components are not always available in collection kits, small batches of kits can be produced as made-to-order or visit-specific kits. Another option is to order make-to-stock kits that are assembled in advance and shipped out very quickly, either overnight or the next day. These kits can then be used or stored as needed.
Taking these factors into consideration, collection kits are a valuable tool to support clinical specimen collections. To learn more, the authors recommend reading Automating your sample collection for biobanking: 10 things to consider.