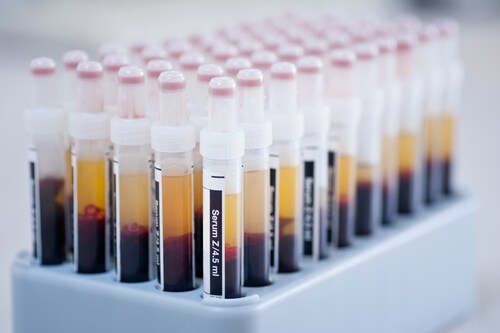 Blood serum is useful for cancer diagnostics, as it provides information regarding disease states with little risk or discomfort for patients. Since these diagnostic practices are relatively new, there are no standardized procedures in place to control for pre-analytical variations that can ultimately affect downstream biomarker discovery experiments.
To examine effects of different storage temperatures and repeated freeze-thaw cycles, Bünger et al. randomly selected 40 serum samples out of the 3,500 samples stored at the University Medical Center Schleswig-Holstein, Campus Lübeck, Germany, between 2007 and 2010. The samples were collected from 20 patients (16 men and 4 women, mean age 69 years) with histologically confirmed and successfully resected colorectal cancer. They obtained two aliquots from 20 of the serum samples and stored each sample at either -80͒℃ or -170°C for between 22.2 and 55.7 months.
With the remaining 20 samples, the team slowly thawed one aliquot of each sample on ice and then repeatedly chilled and thawed them up to three times to simulate the effects of multiple freeze-thaws. They compared samples after zero, one, two and three cycles of freeze-thaw.
The team analyzed samples using their previously developed multiplex protein biochip array for colon cancer.2 The biochip includes biomarkers for carcinoembryonic antigen (CEA), interleukin 8 (IL-8), vascular endothelial growth factor (VEGF), calgizzarin (S100A11), macrophage colony-stimulating factor (M-CSF), complement component 3a (C3adesArg), protein 26 (CD26) and C-reactive protein (CRP).
The team established thresholds using their biochip markers to classify samples as diseased or healthy, depending on the pre-analytical conditions. They established the threshold for CEA at 3.2 ng/mL, for IL-8 at 39.5 pg/mL, and for CRP at 14,600 ng/mL. Based on these levels, CEA showed a sensitivity of 26%, IL-8 of 22%, and CRP of 17%, all at 90% specificity.
After examining samples subjected to multiple freeze-thaw cycles, they found significant changes in serum levels (p < 0.05). Samples with three freeze-thaw cycles (3 x 20 aliquots) detected changes in the serum level for all markers except S100A11 and CD26. Specifically, they found the levels of CEA, IL-8, C3adesArg and CRP increased, while VEGF and M-CSF levels decreased. Interestingly, these changes in expression levels were not drastic enough to affect the ability to identify and diagnose cancer. The researchers concluded that multiple freeze-thaw cycles did not affect the final diagnostic performance.
When the team evaluated aliquots based on storage temperature alone, they determined that long-term storage at -80͒℃ (n = 20) versus -170°C (n = 20) did not show significant differences for any of the eight markers. However, when the team applied diagnostic thresholds, they found one out of three samples stored at -170°C without thawing was actually malignant by the CEA, IL-98 and CRP thresholds. The team concluded that storage at the higher temperature of -80°C could lead to misdiagnosis.
Bünger and colleagues stress the need for standardized sample collection and handling. Specifically, they recommend researchers keep and maintain records of all freeze-thaw cycles and include markers for sample degradation in future biochip design.
References
1. Bünger, S, et al. (2012) "A novel array for serum diagnostics of colon cancer: A case-control study," BMC Cancer,12(393), doi:10.1186/1471-2407-12-393.
2. Bünger, S. (2013) "A novel multiplex-protein array for serum diagnostics of colorectal cancer: impact of pre-analytical storage conditions," Biopreservation and Biobanking, 11(6) (pp. 379–86), doi: 10.1089/bio.2013.0050.