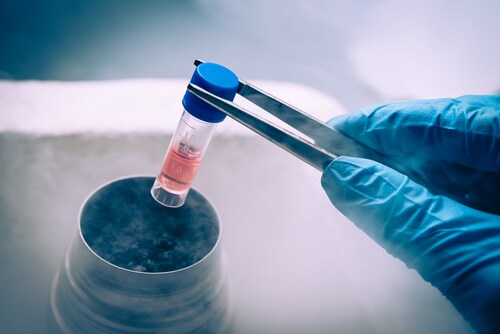 Circulating tumor cells may be a useful tool to gain information on the biochemical characteristics of metastatic cells. However, the techniques for isolating circulating tumor cells are still relatively new, and preserving these cells for extended periods of time prior to analysis remains a challenge. Nejlund et al. (2016) used 20% dimethyl sulfoxide (DMSO) in Roswell Park Memorial Institute (RPMI) medium 1640 to cryopreserve circulating tumor cells at –80°C for subsequent use in enumeration and biomarker characterization.1
Nejlund et al. used blood from healthy volunteers, spiked with human breast cancer cell lines MCF-7, SK-BR-3 and MDA-MB-231. They used these samples to examine their cryopreservation method. The investigators then tested their cryopreservation method on clinical samples they obtained from 17 patients with invasive breast cancer. In both instances, they centrifuged the samples at 2,500 g at 4ºC for 15 minutes to isolate nucleated cells before transferring them manually to 15 ml Falcon tubes. They then either prepared them for cryopreservation in DMSO and RPMI 1640, or immediately prepared them for CytoTrack analysis.
To study the impact of cryopreservation on biomarkers, the researchers used flow cytometry analysis 20 days after freezing and compared the results to a fresh sample. The investigators also examined quantitative recovery of blood samples spiked with low numbers of tumor cells and high numbers of tumor cells after cryopreservation, comparing these frozen samples to fresh.
Cell line samples with low numbers of tumor cells experienced up to 40% cell loss, while those spiked with high numbers of tumor cells experienced approximately 10% tumor cell loss. Cryopreservation did not appear to affect recovery rate, but the investigators suggest that the additional freeze-thaw cycle or wash/centrifugation step could result in additional tumor cell loss. Clinical samples did not reflect the results from the spiked cells. There was much larger circulating tumor cell variation in the clinical samples.
Nejlund et al. conclude that circulating tumor cell cryopreservation can produce up to 90% tumor cell recovery rate without affecting biomarkers. This may overcome some of the challenges in larger clinical studies because samples do not need to be analyzed immediately.
Reference
1. Nejlund, S., et al. (2016) "Cryopreservation of circulating tumor cells for enumeration and characterization," Biopreservation and Biobanking [Epub ahead of print].