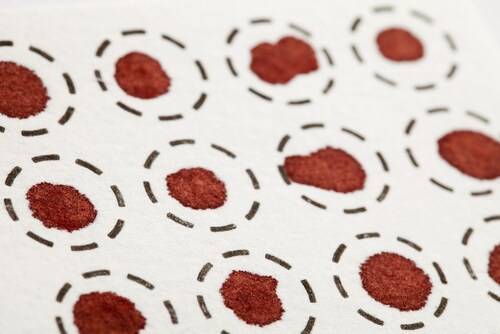 Biobanking tissue samples is a costly process requiring infrastructure for processing, storage and transport. A method for blood collection that is over 50 years old may have biobanking applications to make the process more efficient without compromising quality or DNA yield. Dried blood spots (DBS) have been used since the 1960s for newborn heel prick tests to identify newborns with phenylketonuria. DBS are also widely used to collect and store samples for drug monitoring, genetic analysis and molecular epidemiological studies where transport and storage options are few. Choi et al. propose that by using appropriate extraction methods, biobanks can use DBS to store blood samples without compromising DNA yield and its applications.1
The researchers collected EDTA-treated whole-blood samples as well DBS, dried for 24 hours at room temperature, from adults between 20 and 40 years old. They divided the samples into two groups, storing one at room temperature and the other at -80ºC. They then further subdivided the samples for storage for two weeks, four weeks or three months.
As samples reached the end of their storage duration, the team extracted single-stranded DNA (ssDNA) from the DBS, first by cutting the cards into small pieces and transferring them to 1.5 mL microbes with 500 μL of distilled water at room temperature for 5 minutes. They discarded the water and repeated the procedure twice before soaking the paper in 500 μL of phosphate-buffered saline or 10 mM Tris-EDTA. They lysed red blood cells in 100 μL of red blood cell lysis buffer and incubated them at 37ºC overnight with 10 μL proteinase K. Finally, they pressed the filter papers against the bottom of the tube with a clean pipette tip and further incubated them at 95ºC for 15 minutes before centrifugation. They stored the supernatant at -80ºC until analysis.
They performed double-stranded DNA (dsDNA) extraction by soaking the cut-out pieces of DBS filter paper in 40 μL of phosphate-buffered saline or Tris-EDTA and incubating them at 37ºC overnight. They then used a DNeasy Blood and Tissue Kit to extract DNA.
They carried out analysis of DNA yield using mass spectrophotometry and measured GAPDH and β-actin transcripts to verify the quality of the extracted DNA. The dsDNA yield from whole blood kept on filter paper at room temperature was approximately 11% greater than the yield from the buffy coat. The stability of DNA in samples collected on filter paper was higher than that for frozen-liquid samples. Comparing samples stored in the same way, they found that there was a greater yield from whole blood stored frozen (39% greater) than there was from the buffy coat. This was, however, only 11% higher than the yield from DBS samples stored at room temperature. Overall, the DBS DNA at room temperature had a lower purity than frozen samples.
The amount of ssDNA extracted from buffy-coat samples was approximately 65% higher than that extracted from whole-blood samples after two weeks, and approximately 44% higher after four weeks. Moreover, the purity of sDNA extracted from buffy-coat samples was higher than from whole-blood samples. The yield was only affected by the length of storage when stored under frozen conditions. Tris-EDTA buffer also produced better sDNA yield. Similarly, measurements of GAPDH and β-actin transcripts indicated that DBS stored at room temperature could produce product that is adequate for PCR analysis.
There were some limitations to the application of DBS storage with regard to sufficient production of dsDNA for microarray studies. However, the method Choi et al. describe indicates that DBS might be a suitable alternative to cold storage where infrastructure, resources or environmental factors are not conducive to traditional methods.
Reference
1. Choi, E.H. et al. (2014) "Rapid DNA extraction from dried blood spots on filter paper: Potential applications in biobanking," Osong Public Health Research Perspectives, 5(6) (pp. 351-357).