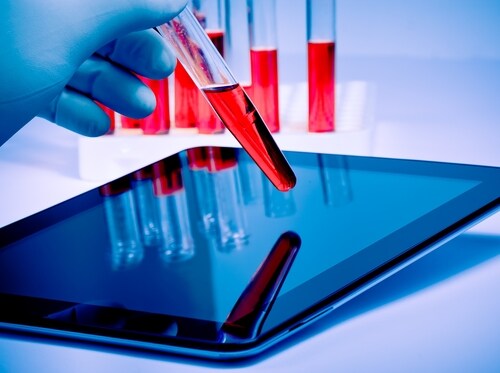 When it comes to biobank consent procedures, traditional informed consent—which requires full disclosure of details related to the research—may not be possible, since researchers do not always know these details at the time they solicit consent. For this reason, novel research aims might need next-generation consent policies. Streamlined consent alternatives could also reduce biobank costs and time constraints while empowering participants with information and opportunities to revisit consent in an ongoing manner.
Toward this end, electronic consent, or e-consent, harnesses digital technology to deliver consent information in a convenient and often intuitive way. Using a computer or tablet as a kiosk, participants can download PDF files or PowerPoint slides—with or without electronic enhancement like graphics, videos, audio files and interactive questionnaires—and even digitally sign a consent form.

As part of a broader interactive media consent study through the University of Iowa, Simon et al. conducted an exploratory survey to examine current use of and future interest in electronic consent among academic and nonprofit biobanks in the United States.1 They specifically solicited information regarding current consent procedures, including staff perception of their effectiveness, and whether they offer (or hope to offer) an electronic alternative.
Out of 363 biobanks, 65 submitted usable surveys; the majority of these (57%) were university-associated repositories. Nearly half (45%) of the respondents had over five years' affiliation with their biobank and held the following positions: biobank director (32%), principal investigator (17%), coordinator or manager (42%), and research associate (17%).
Of the 65 biobanks, 63 (97%) currently obtain informed consent from participants, and 2 (3%) plan to begin doing so in the future. Most of the biobanks (98%) obtain consent in person with a paper consent form. Other common consent procedures include consent via telephone (22%) and mail (22%). Very few (8%) currently use electronic consent, but many (37%) offer more than one method for obtaining consent. Overall, respondents reported that their current protocols are "efficient with some room for improvement" and that their procedures "promote good understanding" among participants.
Of the five biobanks currently offering electronic consent, three reported two to three years of experience with the method, while the remaining two had less than one year of experience. Simon et al. noted that these biobanks also offer traditional consent options, but it was not clear whether they use the traditional modes in combination with electronic modes or as an alternative or backup form of consent. The respondents rated the establishment of the e-consent system as "somewhat challenging" and listed the following barriers: cost, staff training and technological issues. Supportive elements included researcher and participant interest, technological support, and buy-in by biobank leadership and staff.
Most (75%) of the remaining 60 biobanks reported future interest in using electronic consent in order to enhance efficiency, increase participant enrollment, improve service and provide better tracking. Nearly half (48%) stated their facility is currently in discussion on the topic, and some (12%) are seeking approval by the institutional review board. Very few (7%) have progressed to soliciting estimates or testing platforms. These respondents reported the following barriers to acquiring e-consent: confidentiality concerns, user challenges, resource strains, technology issues and institutional challenges.
Drawing from the data they compiled, Simon et al. offer the following steps to biobanks considering implementing electronic consent:
Determine participant interest
Secure institutional buy-in and technological support
Identify the level of technology integration with current data networks
Compose a cost analysis
Select an electronic delivery system
Choose how to collect and document signatures
Reference
1. Simon, C.M., et al. (2014) 'Traditional and electronic informed consent for biobanking: A survey of U.S. biobanks,' Biopreservation and Biobanking, 12(6), doi: 10.1089/bio.2014.0045.
Post Author: Melissa J. Mayer. Melissa is a freelance writer who specializes in science journalism. She possesses passion for and experience in the fields of proteomics, cellular/molecular biology, microbiology, biochemistry, and immunology. Melissa is also bilingual (Spanish) and holds a teaching certificate with a biology endorsement.