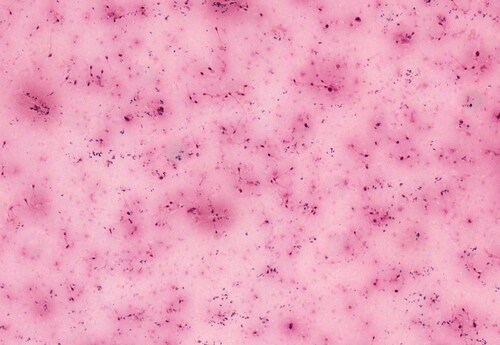 Artificial insemination is common in swine breeding, and most often breeders use fresh semen. In fact, as Zeng et al. explain, only 1% of breeders use cryopreserved semen. This is due to a decrease in motility and viability along with other changes caused by the freezing process that ultimately lead to reduced conception rates. Recent work suggests the freezing process causes epigenetic changes;1 however, the precise mechanisms behind these changes remain unknown.
To help elucidate these changes, Zeng et al. investigated differences in frozen boar spermatozoa by analyzing mRNA expression and protein levels involved in epigenetic-related genes, including Dnmt3a, Dnmt3b, Jhdm2a, Kat8, Prm1, Prm2 and IGF2.2

The team collected samples of boar sperm and examined them for quality. They split the sperm into six groups of treated sperm:
Group one: 3% glycerol added

Group two: 250 mM trehalose plus 3% glycerol

Group three: 1 mM glutathione plus 3% glycerol

Group four: fresh semen directly frozen in liquid nitrogen (direct freezing treatment)

Group five: fresh semen diluted with lactose egg yolk (LEY) only (program freezing treatment)

Group six: program freezing treatment without any other cryoprotectants, including using the LEY extender
Following these treatments, the team packaged the mixtures into 0.25 mL straws and used a CryoMed controlled-rate freezer (Thermo Scientific) to slowly freeze samples. The team gradually cooled the samples to -150°C and then plunged them into liquid nitrogen for storage at -196°C. The team kept the samples in the liquid nitrogen tank for at least two weeks. Afterwards, they thawed the samples at 37°C for further analysis.
Using a StepOnePlus™ real-time PCR system to analyze sperm samples, the researchers saw dramatic changes in mRNA expression of epigenetic-related genes before and after cryopreservation. They used a NanoDrop 1000 spectrophotometer (Thermo Scientific) to determine the total RNA and protein levels.
Looking at sperm viability and motility, they found group one (3% glycerol treatment) had the best results. Groups two and three did not fare as well and had significantly (p < 0.05) reduced viability and motility. They also found freezing with LEY promoted significantly (p < 0.05) higher viability compared with direct freezing or program freezing without LEY treatments.
Moving to epigenetic genes, the team found decreased expression of Dnmt3a and Dnmt3b in all frozen samples compared with fresh samples, with the lowest expression of Dnmt3a in group six. Prm1 was also decreased in all frozen samples except for group 4, where the team did not identify any significant changes.
The team saw significant differences in Kat8 expression in group four and group one compared with fresh sperm. They also spotted differences in Jhdm2a in group four compared with fresh sperm (p < 0.05) but no other differences. Prm1 expression in fresh spermatozoa was significantly higher than in all other freezing treatments (p < 0.05). However, there were no significant differences with direct freezing.
Additionally, Zeng et al. saw significantly higher levels of IGF2 in spermatozoa from the fresh and direct freezing treatment groups (p < 0.05). The team found that the addition of 3% glycerol during cryopreservation resulted in the best motility and viability of post-thawed boar spermatozoa despite Dnmt3b levels. Zeng et al. consider that this may be due to a maintained, de novo, methylation status.
References
1. Boissonnas, C.C. P. Jouannet,P., & Jammes, H. (2013) "Epigenetic disorders and male subfertility," Fertility and Sterility 99 (pp. 624–631).
2. Zeng, C., et al. (2014) "A preliminary study on epigenetic changes during boar spermatozoa cryopreservation," Cryobiology 69(1) (pp. 119-27), doi: 10.1016/j.cryobiol.2014.06.003.