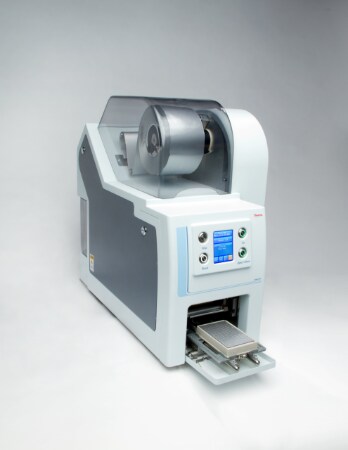 Biobankers are changing the way they store liquid samples.
Rather than preserving an entire sample in one vial, more and more researchers are splitting samples into multiple, miniaturized single-use tubes. Why? Because single-use tubes allow a small aliquot to be removed for an assay or experiment without subjecting the entire sample to thawing and re-freezing. Fewer freeze and thaw cycles means better sample preservation and more accurate results in research experiments and clinical trials.
96- Tube formats with volumes ranging from 200µl through 1.4ml are commonly used and support multiple storage volume and space requirements.  384 -tube racks with 70µl tubes provide the lowest volume and highest density storage solution for individual samples.  Thermo Scientific's new SampleSeal provides an automated, efficient and easy-to-use method for sealing 384- or 96-tube racks. To create a secure seal, a thin layer of piercable foil is heat-sealed over every tube in the rack.
Here are the key benefits of SampleSeal:
         The sealing process is quick and efficient. One of the main advantages of SampleSeal is how quickly samples can be processed. An entire rack of 94 or 384 tubes can be sealed in less than one minute. (Care to race me with screw cap tubes?)
         Samples aren't damaged by sealing. Although SampleSeal relies on a heated plate to secure foil to the top of a rack, the actual heat transmission into the sample is minimal. Under standard conditions, sample temperatures only rose by about 2°C and rapidly returned to ambient.
         An alternative. Understandably, some biobankers might be skeptical about how well a foil seal can hold up under long-term storage or multiple freeze and thaw cycles. To evaluate seal robustness Thermo Scientific subjected sealed tubes to a variety of tests.Matrix 0.1mL tubes with foil seals were compared to standard 0.5mL screw cap tubes under extreme conditions of storage in liquid nitrogen and thaw to room temperature, repeat freeze and thaw cycles and pressure differentials under partial vacuum. The foil sealed tubes met screw cap tubes performance in every test.
         Foil sealed tubes meet and exceed regulatory requirements for air transport. If you're transporting containers by air, select materials require compliance with standards ensuring  the container's ability to withstand thermal shock and pressure differentials. Matrix tubes with foil seals meet IATA requirements, making them a safe and reliable choice for air transport.
         SampleSeal can be integrated into any biobanking workflow. SampleSeal is a versatile product that's appropriate for both large and small biobanking operations. SampleSeal can be used on the benchtop with manual loading or as a component of an automated system.
For more information on SampleSeal, please visit the product page here.