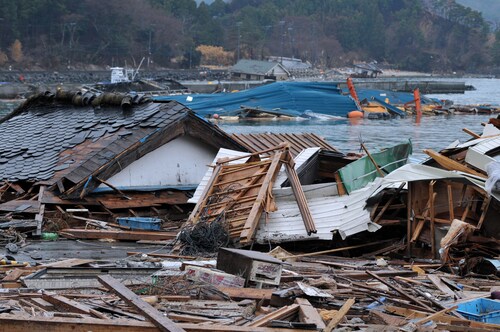 Following the Great East Japan Earthquake and its resulting tsunami in 2011, Tohoku University's Tohoku Medical Megabank Organization (ToMMo) and Iwate Medical University's Iwate Tohoku Medical Megabank Organization (IMM) launched the Tohoku Medical Megabank project. The aim of the project is to address the consequent issues that the Tōhoku region of Japan is still facing in the aftermath of the earthquake some five years later. Many survivors still face poor nutrition, a lack of medical care and psychological stress, which Kuriyama et al. (2016) argue accelerate the onset of or aggravate a variety of chronic, non-infectious diseases, such as peptic ulcers, ulcerative colitis, cardiovascular disorders, cerebrovascular disorders, diabetes and chronic obstructive pulmonary disease. The TMM will form part of an advanced medical system and practice to help restore medical services in tsunami-stricken areas.
The Tohoku Medical Megabank started in 2012 and will introduce personalized health care and medicine into damaged areas. It currently has three initiatives:
Conduct two prospective cohort studies and one cross-sectional study
Construct an integrated biobank that stores biospecimens and information collected through the cohort studies

Perform regular genome and –omics analyses with the collected biospecimens and store resulting data for distribution to the research community
To conduct cohort studies, the Tohoku Medical Megabankrecovered damaged health care services where possible and established a rotation system for dispatching physicians to areas with a physician shortage. They cleverly deployed two fellowships, the ToMMo Clinical Fellowship and the IMM Medical Megabank Fellows System, to entice young physicians. In this way, they can provide medical care while offering clinical and research expertise to young physicians.
The TMM recruits participants into the cohort studies during regular annual checkups. These participants are between 40 and 74 years of age. In July 2013, they also started a birth and three-generation cohort study that now has approximately 50 obstetric clinics and hospitals participating in the recruitment process. The data being collected includes the following:
Sociodemographic factors, lifestyle habits and medical history
Biospecimens, such as blood, urine, saliva, dental plaque and breast milk
Measurements, such as height, weight and blood pressure
Magnetic resonance imaging (MRI)
The TMM intends to transfer biospecimens and data to the researchers most suited to maximizing their potential and to adopt a materials and data transfer policy, which will contribute to the reconstruction of the affected areas. They are collecting data and biospecimens with the intention of sharing them with many researchers focused on the mechanisms of disease. They also intend to conduct in-house genomic and –omics research. The purpose of this is as follows:
Construct an integrated biobank
Return genomic research results to participants in the cohort studies, leading to personalized health care in the near future
Contribute to the development of personalized health care and medicine worldwide
The Tohoku Medical Megabank has already created a Japanese reference panel of genomic variation, called the Integrative Japanese Genome Variation Database, which is publicly available online.
Finally, the consent process uses continuing consent. The initial consent process explains the studies, biobanking and general research methods for genome analysis, –omics analysis and cell culture. During follow-up, participants receive additional information about the research through newsletters, Web pages and other channels, as researchers define new protocols.
Kuriyama et al. note that the TMM currently has some limitations, such as controlling for the bias of males to females as well as their ages because of women's increased likelihood to seek specific health checkups. However, the TMM offers a unique opportunity to address health-related issues from the earthquake and improve future health using personalized medicine.
Reference
1. Kuriyama, S., et al. (2016) "The Tohoku medical megabuck project: Design and mission," Journal of Epidemiology, 26(9) (pp. 493–511), doi: 10.2188/jea.JE20150268.