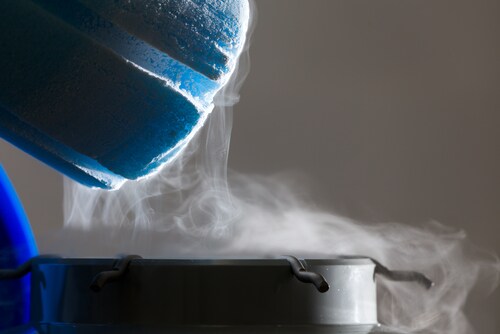 The information gathered from a metabolomic snapshot of tumor tissue is dependent on the tumor microenvironment. Freezing delay time (the time between surgical resection and the sample being frozen) can impact cellular and enzymatic reactions within the tumor. Thus, the metabolic profile of the tumor could be changed. Haukaas et al. (2016) explored the impact of freezing delay time on breast cancer xenograft models.
The investigators used two orthotopic xenograft models transplanted from breast cancer biopsy tissue. They represented basal-like (n=3) and luminal-like (n=3) breast cancer phenotypes, each with a distinct metabolic profile. The investigators extracted the tumors, divided them into 42 pieces, and left them at room temperature for 0, 15, 30, 60, 90 and 120 minutes prior to snap-freezing in liquid nitrogen. Haukaas et al. used high-resolution magic angle spinning magnetic resonance spectroscopy (HR MAS MRS) to obtain metabolic profiles.
Additionally, Haukaas et al. included breast cancer samples from 14 female patients at St. Olav's Hospital (Trondheim, Norway) and Molde Hospital (Molde, Norway). They used these samples to examine the effect of prolonged spinning during the HR MAS experiments.
Three metabolites were significantly affected by the type of xenograft model (basal-like vs. luminal-like), and four metabolites were significantly affected by delayed freezing. The levels of ascorbate, creatine and glutathione decreased with time, while choline levels increased with time. However, the team saw no significant changes in individual metabolite levels at 30 minutes past tumor excision. Most changes occurred beyond 30 minutes. Furthermore, the investigators noted that for 12 out of 16 metabolites, there freezing had a clear effect when compared to unfrozen tissue. Snap-freezing increased levels for all metabolites.
HR MAS MRS analysis of the 14 human breast cancer samples showed that metabolites in breast tumors are not subject to significant degradation if snap-frozen within 30 minutes of surgical excision.
In summary, Haukaas et al. demonstrated that freezing clearly affected most metabolites. However, within a 30-minute freeze-delay window, metabolic profiles are robust to metabolic changes.
Reference
Haukaas, T.H., et al. (2016) "Impact of freezing delay time on tissue samples for metabolomic studies," Frontiers in Oncology, 6(17), doi: 10.3389/fonc.2016.00017.