This blog post is part of a series based on information presented at a biobank networking event hosted by Thermo Fisher Scientific earlier this year in the UK.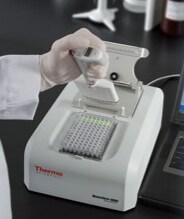 Biobankers around the world are clamoring for an international standard for biobanks. International standards are developed and published by the International Organization for Standardization (ISO). An ISO standard would establish criteria for quality, agreed to by the majority of biobank stakeholders, and so help biobanks reduce business risks, improve efficiencies, ensure research integrity and enhance the credibility of their samples and data, and the research results produced using them.
During a Thermo Fisher Scientific networking event this spring, Anne Carter, Portfolio Lead for Biobanking at the National Cancer Research Institute, used details from the Cancer Genome Atlas project to illustrate why an ISO is essential.
As Anne explained, as long ago as 2007 the Cancer Genome Atlas project, a $100 million dollar joint initiative between the NCI and the National Human Genome Research Institute to investigate the genome of cancer, was reporting unexpected problems with sample quality. Researchers from the project reached out to others around the world for frozen tissue from different tumor types along with matched normal reference samples. The initial response was terrific, and the researchers thought they would be able to collect all 1,500 initial samples from only four to six institutions. However . . .
The dropout rate approached 99%.
One of the researchers reported that they would pull the samples out of their freezers and recognize they were not big enough. Or they'd cut a section, and it would not have enough tumor, or they were missing the matched normal from the patient.
Even among the samples that did pass the histological quality control assessment, nearly 30% failed when it came to molecular testing of sample quality.
According to Anne, the Cancer Genome Atlas project was a "wake-up call" to all involved. As one researcher put it, "It was an eye-opener that a transformative project of this importance was not going to have the samples that it needed to fuel its pipeline from existing collections."
What do biobank researchers need? Anne presented this list:
      Increasingly large numbers of samples
      More consistency of sample quality
      A range of sample types – fit for purpose
      More complete and consistent data collection
      More accessible for study
And yet, no single biobank is capable of providing this kind of comprehensive, end-to-end service to large studies  . . . which is why networks of biobanks are essential – nationally and internationally.
But, networks of biobanks can only work together if their samples and data are interoperable. In biobanking, interoperability allows a researcher to use samples and data from more than one provider with confidence that any differences between the ways in which samples and data are collected and handled will not affect the outcome of the research.
And that brings us full-circle, back to the headline of this blog post:
It's Time For An ISO For Biobanks
What can be done?
As Anne said, we have guidelines, best practices and standards, as well as laws, regulations, directives, ethics approvals and licensing. In the UK, the CCB project is making great strides to raise levels of quality in biobanks and increase the use of samples by:
      Defining quality standards
      Improving the "fitness for purpose" of samples and data held
      Harmonizing wherever possible to increase interoperability of samples and data
      Increasing the visibility of and ease of access to samples and data
      Awarding a "quality mark" to biobanks that meet the standards
More specifically, the CCB project has:
      Engaged with the biobanking community to devise a scheme that is inclusive of all interested biobanks in the UK
      Ensured that the scheme is practical and pragmatic so that meaningful standards are set but without creating unnecessary costs,           burdens or hurdles for biobanks and researchers
      Ensured that biobanks will gain benefits from the scheme so that there is an incentive to join
While this work has been in progress, ISO has set up a new Technical Committee to look at devising international standards for biotechnology, including biobanking. The work undertaken by the CCB will feed into the ISO work over the next few years and ensure that the needs and opinions of biobank stakeholders in the UK are represented in the long-awaited international standards.
For more on the CCB project and to review and comment on the standards, visit ww2.ncri.org.uk/ccb.
To learn more about ISO and the work of TC 276, visit:  http://www.iso.org/iso/home.htm