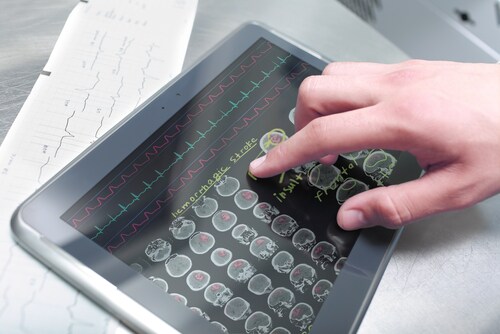 In 2007, the National Institutes of Health (NIH)-funded Electronic Medical Records and Genomics (eMERGE) network started, drawing together five biorepositories to facilitate genomic discovery through shared electronic medical records (EMRs). By 2012, eMERGE represented nine sites and was notable in developing best practices for combining genomics with phenotype research. In 2015, a call for new members brought Partners Personalized Medicine (PPM), another EMR-linked biorepository that is also part of Partners HealthCare, a nonprofit, integrated health care system, into the eMERGE network. In a recently published paper, Smoller et al. (2016) describe the facilities included in the eMERGE Clinical Center at PPM, and how they will fulfill the scientific aims of the project.1
Access to EMRs and linking to genomic information is a major factor in current advances in personalized medicine and translational research. Using these associated data, researchers can investigate the impact of genomic mutations alongside associated phenotypes to assess clinical relevance and develop novel treatments. For this reason, biorepositories are valuable resources. Following from initial start-up and subsequent expansion, the eMERGE network has worked to establish best practices in these areas. The aim of the most recent phase of the eMERGE network project is to discover more about translating these findings, especially with regard to rare mutations, into clinically relevant actions and assessing their delivery, impact and outcomes. For this reason, the network administrator sent out a request for applications, to which Partners HealthCare responded.
According to Smoller et al., PPM already incorporates a number of existing workflows in its clinical process that complement the eMERGE network objectives. These facilities should prove useful in answering the network's end goals of genetic discovery and improved personalized medicine delivery.
PPM comprises a molecular medicine laboratory, a genomics facility, a biobank and the Research Patient Data Registry. All facilities are linked through a common information technology infrastructure to facilitate data input, association and retrieval.
The biobank holds DNA, serum and plasma samples collected from patients. All samples hold broad consent from individual donors, allowing future and diverse studies in addition to permitting clinicians to return medically actionable information on genetic results. In this way, research into the genomics and allied phenotypes can be translated into clinical practice.
The Research Patient Data Registry holds EMRs in a data warehouse. This facility is accessible to researchers and holds databases of research information for around 4 million patients. The databases are themselves optimized for phenotyping, research queries and integration with associated EMRs. Full compliance with current security methods ensures patient security and confidentiality while allowing research access.
Researchers at the eMERGE clinical center within PPM are working towards the following scientific aims:
Detection of common and rare genomic variants in association with phenotype characterization.
Evaluation of

penetrance of genetic mutations

and their clinical relevance. Research is focused on cardiovascular and neuropsychological disorders (for example, schizophrenia, attention deficit hyperactivity disorder and autism spectrum disorder).
Return of genetic results and the impact on health outcomes. PPM is focusing on familial hypercholesterolemia, a cardiovascular condition caused by mutation in one of three associated genes. Researchers will assess the impact of returning genetic results on health outcomes, with feedback on the process from both patients and families.
In summary, Smoller et al. believe that existing expertise within PPM-facilitated development of the eMERGE clinical center within the facility will prove valuable in achieving the scientific goals of the network. Moreover, with prior experience in returning genetics results to patients for clinical action, PPM is ideally placed to evaluate clinical implementation of genetics findings. Feedback from the studies will address health outcomes, ELSI (ethical, legal, social) issues and health services provision, thus aiding development of best practices for future guidance.
Reference
1. Smoller, J.W., et al. (2016) "An eMERGE clinical center at Partners Personalized Medicine," Journal of Personalized Medicine, 6(1). doi:10.3390/jpm6010005