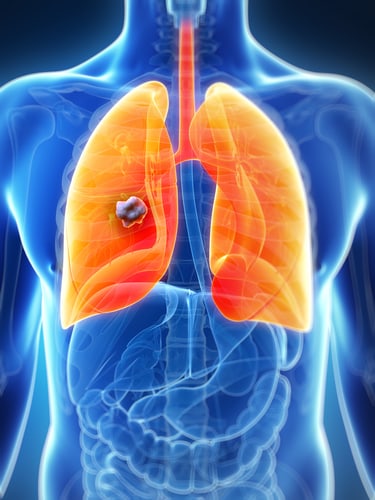 Lung cancer is a leading cause of death. Its prognosis is related to its stage at diagnosis: the later the stage, the poorer the prognosis a patient typically receives. In order to improve lung cancer survival rates, the U.S. Preventive Services Task Force (USPSTF) has recommended screening high-risk groups using low-dose computed tomography (LDCT). While this has the potential to reduce lung cancer mortality by over 20%, it does not readily differentiate between malignant cancer and nonmalignant nodules, leading to unnecessary anxiety. Crawford et al. (2016) describe and assess the accuracy of a lung cancer risk test (LCRT) using biomarkers as a means of stratifying at-risk individuals for follow-up with computed tomography (CT) or other scans.1 Furthermore, the authors describe establishing a biospecimen repository containing normal bronchial epithelial cells (NBEC) and peripheral blood samples collected from the LCRT cohort.
The LCRT is a 15-gene test measured in NBEC obtained through bronchial brush biopsy. The study required subjects to be at a high demographic risk for lunch cancer based on age (50–90 years) and a minimum of 20 pack-years of cigarette smoking (current or former). Participants also needed to have a low likelihood of having cancer at the time of the study. In total, the LCRT trial enrolled 403 participants, 384 of whom remained in the study. At enrollment, the investigators performed a bronchoscopy, collected NBEC and blood, and performed a CT scan.
The cohort that Crawford et al. enrolled in the study was representative of the population the USPSTF intended for LDCT. For this reason, Crawford et al. expected to find that the incidence of lung cancer in this cohort would be representative of the population eligible for LDCT lung cancer screening.
Overall, the authors found the LCRT, using a bronchial brush biopsy to obtain NBEC, to be safe and feasible. Trial participants tolerated the procedure well, including those with significant comorbidities such as chronic obstructive pulmonary disease (COPD). Further, the participants did not experience any serious adverse events at the time of the procedure or within the 30 days following.
The authors collected matched blood and NBEC for 94% of the participants, which were all processed on-site and stored at –80°C until shipment to the Early Detection Research Network biorepository. The University of Toledo extracted genomic DNA (gDNA) from 80% of the subjects, all of which yielded sufficient gDNA for further studies. The authors report that samples from over 120 subjects have been used successfully in preliminary targeted next-generation sequencing RNA sequencing analysis studies.
Crawford et al. suggest their findings indicate that LCRT is a feasible test to narrow the population of individuals requiring annual LDCT screening as a method for early detection of lung cancer. It also provides a means for stratifying and delaying screening for individuals with results indicating a low lung cancer risk. The resulting biobank with LCRT biospecimens will enable additional studies of genetic basis for COPD and/or lung cancer risk.
Reference
1. Crawford, E.L., et al. (2016) "Lung cancer risk test trial: Study design, participant baseline characteristics, bronchoscopy safety, and establishment of a biospecimen repository," BMC Pulmonary Medicine, 16(1). doi: 10.1186/s12890-016-0178-4.