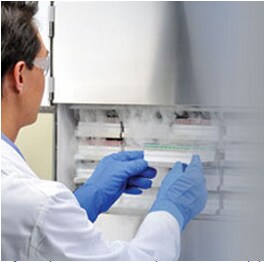 The term "biobank" used to mean a collection of samples stored in a few freezers. But over the past thirty years, biobanks have evolved considerably, and many are now enormous operations run by universities, research institutions, government groups and private companies. Today, an estimated 20 million tissue samples are collected in the US each year for research, epidemiology and clinical trials, and organizations have been launched to help determine best practices.
At the most basic level, all biorepositories has the same mission: preserve every feature of a sample, whether it's tissue morphology, nucleic acid or peptide biomarkers, for years to come. That's a lofty goal, though. Can biobanks achieve it? How do they balance research needs with compliance, storage limitations, etc. –and stay within budget?
They key is to concentrate on these three essential areas of focus: sample processing, record keeping and security.
Sample Processing
The broad category of "sample processing" covers the most critical activities of a biobank, from collection and shipping to downstream analysis and eventual long term storage. In short, sample processing encompasses any action that touches or changes a biosample –which means, of course, it's an area where things are likely to go wrong. A mistake at any step in the protocol can negatively impact sample integrity, especially if the error isn't documented. To maximize sample processing efficiency and effectiveness, be sure to:
       Use sample collection containers that are secure, traceable, standardized and designed for the type of downstream processing planned.
       Consider sample collection kits, which can streamline and standardize the process of gathering biosamples across multiple collection sites.
       Use shipping containers that can safely and reliably transport a sample from the collection site to the repository while maintaining the proper temperature along the way.
Record Keeping
Even a well-designed sample processing pipeline will fall flat without a rigorous chain of documentation to back it up. Modern biobanks must keep detailed logs of not only samples, but also supplies and consumables. Fortunately, the development of sophisticated tracking technology has made this task easier and more reliable. Laboratory Information Management Systems (LIMS) can be used to record the process of a sample as it moves through the biobanking workflow. With a LIMS, accurate records are maintained at every step and can be reviewed as needed.
Security
Biobanks must be resilient against internal and external forces that threaten their samples. For example, Australia's PlantBank was designed with the threat of brushfire in the surrounding woodland in mind. Researchers at the UK Biobank store backup replicates of samples in liquid nitrogen at a geographically-distinct location. Risk management and mitigation need to be addressed early in biobank design and then updated regularly, especially if the repository's goal is to preserve genetic diversity in the event of potential catastrophes. Fundamental security features need to include:
       24/7 monitoring and detailed event logging
       Wireless remote monitoring systems, which can provide instant notification in the event of a mechanical failure or power outage and are useful for regulatory compliance
       Back-ups of rare samples
Sample processing, record keeping and security are three focus areas essential for every modern biobank. For more details about best practices, check out this feature article published last month.