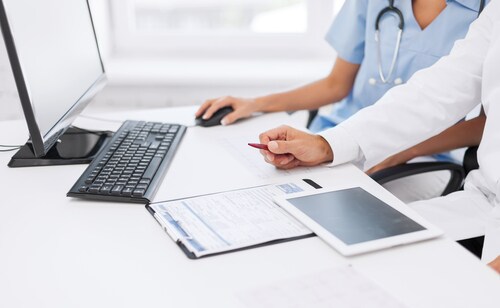 Biobank effectiveness relies heavily on nurses, as they play a major role in biospecimen collection. Sanner et al. discuss this role and the competencies nurses need to continue to facilitate biobanking practices.
Translational research, which is research that takes knowledge from the laboratory to affect direct patient outcomes, increasingly requires researchers to collect biosamples. In this context, nurses must understand the sample collection process so that they can not only facilitate biobanking but also act as patient advocates. Nurses play a vital role in driving a patient-centric approach to sample collection to ensure that, as the end user, the patient is benefited by the process. However, there are multiple nursing roles that biobanking requires: nurse scientists, research nurse coordinators, and clinical research and practice nurses, each of whom have unique attributes that can contribute to and influence biobank practices. Sanner et al. discuss and compare each nursing role separately:
Nurse scientist: Their focus is on advancing discovery, and therefore their primary role includes generating new data from biospecimens. They are involved in developing biobank resources, collecting data relevant to improving patient quality of life, and developing policy and legislation for biobanks.
Research nurse coordinator: These nurses recruit participants, supervise sample collection, record data and manage compliance with regulation. This also includes activities such as developing guidelines for informed consent.
Clinical research and practice nurse: Clinical research nurses typically operate under the direction of nurse scientists or nurse coordinators.

They promote research to patients and obtain informed consent, often in addition to collecting the corresponding biospecimens and clinical data.

They must have a comprehensive understanding of biobanking practices, including the ethical considerations surrounding informed consent processes and data integrity. Similarly, practice nurses reinforce informed consent with patients and can directly influence biospecimen and clinical data quality. These nurses are responsible for data entry and ensuring standardized collection protocols.
With the greater focus on genomics data, the investigators highlight the importance of nursing staff having competencies in genetics and genomics. This is particularly important because this type of data underpins much biobanking activity. Therefore, nurses are required to understand genetics and genomics studies, as they are increasingly involved in biobanking operations. The authors suggest that these nurses must first understand their own attitudes and values relating to genetic and genomic discoveries. Furthermore, nurses need to understand how these discoveries relate to disease prevention, screening, diagnosis, prognostics and treatment.
In conjunction with data collection of this nature, nurses involved with genetic biobanks need to become familiar with the scope and limitations of the Genetic Information Non-discrimination Act (GINA) signed by President Bush in 2008 to protect biobank participants. Additionally, providing information about GINA to patients may also improve participation levels. Any fears a potential participant may have about discrimination based on their genetic information may be alleviated with greater understanding of the role of GINA.
Overall, the authors highlight how essential each type of nurse is to biobanking. They have also emphasized key competencies in genetics, genomics and ethics. As the breadth and scope of biobanking continues to grow, the authors believe that the role of nurses will become increasingly important.
Reference
Sanner, S., Yu, E., and Nomie, K. (2015) "Nursing and biobanking," Advances in Experimental Medicine and Biology, 864, doi: 10.1007/978-3-319-20579-3_12