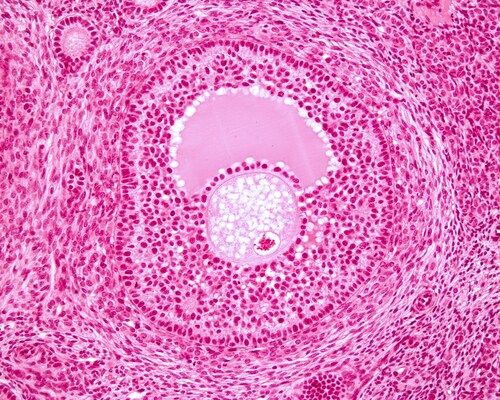 Treatment optimization for cancer has led to great strides in survival rates. However, for some, a cure will not spell the end of their angst. Chemotherapy and radiotherapy can have lasting side effects, and although not all will go on to affect an individual's long-term health, sequelae such as infertility can be devastating.
It is not uncommon for eggs or ovarian tissue to be harvested prior to treatment so that they can be reused at a later date should treatment affect a woman's fertility. Additional considerations come up for researchers and clinicians at this point. These concerns include how to best harvest and cryopreserve the tissue while minimizing risk of reintroducing malignant cells, and selecting cryopreservation that will have the best outcomes in terms of viability. Castro et al. address some of these issues in a recent study to determine the most effective culture media for cryopreservation.1
The researchers used a bovine model, because its ovarian follicle behaviors are similar to those of humans. They compared three types of media (α-MEM, McCoy and M199) for in vitro culture of frozen/thawed ovarian tissue. They collected 22 fragments of ovarian cortex and allocated them to treatment groups: 1 fragment as a fresh control, 1 fragment as a follicular isolation for viability testing, 9 fragments for in vitro culture and 11 for slow freezing.
They performed slow freezing by subjecting the fragments to freezing solution for 20 minutes, and then reduced the temperature by 2ºC/minute from 20ºC to -7ºC, where the samples were held for 10 minutes. The fragments were then cooled to -70ºC by 10ºC/min. To thaw the samples, the researchers held them at room temperature for 1 minute prior to immersing them in a water bath at 37ºC until they had thawed completely.
At the conclusion of the freezing and thawing steps, Castro et al. analyzed 2,100 prenatal follicles. They found fewer morphologically normal follicles in frozen controls immediately after thawing compared to the fresh control, and this was uniform across all fresh versus frozen samples. Overall, M199 medium produced the best results for fresh cultured tissues. These samples maintained morphology and more efficient follicular development. However, previously frozen samples performed better in McCoy medium.
Castro et al. suggest that the performance of follicles in culture is affected by altered metabolic processes due to freezing. McCoy medium has a higher glucose content, suggesting that cryopreserved follicles may use glycolysis to restore cellular activities. It also has a higher vitamin B content, which is crucial to cell survival and development. Therefore, the stress of cryopreservation may increase cell energy requirements. Furthermore, repairing cryopreservation-associated cell damage might require higher levels of vitamin B complexes than normal.
In conclusion, M199 and McCoy appear to be the most suitable media for in vitro growth of fresh and thawed ovarian follicles, respectively.
Reference
1. Castro, S.V., et al. (2014) "Frozen and fresh ovarian tissue require different culture media to promote in vitro development of bovine preantral follicles," Biopreservation and Biobanking, 12(5) (pp. 317–324).