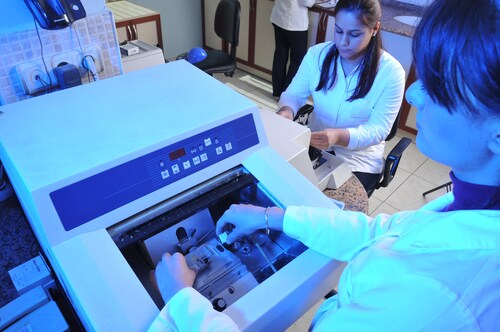 The biobank of the CRO Aviano National Cancer Institute (CRO-Biobank) of Italy is a disease-specific institution with a pithy slogan: "no waste time, just research." This outlook informs both the biobank's practices and the insight it offers to others. In a recent publication, Cervo et al. (2015) provide practical advice drawn from eight years of CRO-Biobank experience successfully navigating the hurdles of biobank development.1
Ethical issues: Patients
The CRO-Biobank developed a single consent form suitable for various therapeutic stages and multiple collections, designed for delivery by a physician. This form highlights:
the purpose of the biobank

advantages, drawbacks and risks associated with donating

donor rights to be informed of sample use and to withdraw consent at will (including destruction of remaining biospecimens)

contact information so that participants can directly access the project manager for information regarding expected results
In light of whole genome sequencing and other research advances, the facility's policy for handling incidental findings is currently under advisement.
The biobank uses IT systems to ensure traceability via two routes: paper (key-protected archives) and electronic (password-protected, double-coded databases). The facility exploits two-dimensional coding to encrypt clinical and storage data at the site. For particularly sensitive information, the biobank outsources a separate database to a certified company with expertise in hosting for maximized privacy protection.
Ethical issues: Researchers and facility
When researchers request samples, the CRO-Biobank requires proof of project approval by either an ethics committee or an institutional board of review. Upon acceptance, research teams must disclose incidental findings and results that lead to discovery, invention or new use, and they must also compose a yearly report so that the biobank can ensure continued compliance with the terms of agreement.
Because the biobank does not charge for its specimens and operates using grants, institutional funding and CRO researcher contributions, the biorepository has begun to explore a cost-monitoring protocol to ensure sustainability.
Process overview
Briefly, the CRO-Biobank outlined their collection, storage, and delivery procedures:
Patients are physician-recruited at diagnosis or after hospitalization.

The IT system simultaneously creates labels for routine medical samples as well as collection tubes for the biobank.

The biobank verifies consent forms before sample collection and again at the time of sample delivery.

Upon collection, the facility stores whole blood tubes at 4°C, using cold bags to transport these to pathology for centrifugation at room temperature (10 minutes, 2,608 g). Within three hours of collection, they transfer the serum, plasma and buffy coat samples to two-dimensional barcoded tubes for storage at -80°C.

Tissue samples face immediate examination and sampling in pathology followed by storage in tubes or Cryomolds at -80°C within 30 minutes. Frozen tissues samples may be deposited in optimal cutting temperature (OCT) compound and snap frozen using liquid nitrogen. Formalin-fixed paraffin-embedded (FFPE) tissues may also be available for researchers, based on a pathology evaluation regarding sample retrieval.

Technicians record any deviation from the standard procedures (e.g., hemolysis, delay in freezing).

Each sample requires accompanying clinical data, including medical chart notes and patient interviews with biobank medical staff.

Researchers (internal or external) submit requests for approval by the steering committee. Approved projects require a material transfer agreement.

After pathology evaluates requested samples for quality, standard shipping procedures ensure safety and reliability.

Upon receipt, the researcher reports annually for monitoring purposes and quotes the biobank as the specimen source in publications.
Harmonization
The CRO-Biobank applied the US National Institutes of Health's (NIH) Biospecimen Reporting for Improved Study Quality (BRISQ) standards such that all biospecimens, including those collected before BRISQ standards, adhere to these documentation guidelines. This step offers researchers fully characterized samples with thorough, standardized, preanalytical data so that sample heterogeneity need not negatively impact scientific results.
Quality control
The biobank adopted the guidelines and best practices established by the International Society for Biological and Environmental Repositories (ISBER) and the Organisation for Economic Co-operation and Development (OECD) and comply with regional safety and quality regulations. They note specific focus on the following issues that impact sample homogeneity and long-term stability:
respect for timing

cold-chain preservation from time of collection to time of storage

optimal tissue freezing

prevention of tissue ischemia (hot or cold)

OCT embedding process accuracy
To ensure quality control, the institution applies histocytological methods (e.g., frozen sections, FFPE-mirrored samples, cytological imprint) and molecular pathology (random quality checks of RNA, DNA and protein) to evaluate samples. The storage facility employs temperature-tracking software that traces freezer temperatures at 15-minute intervals. Two independent alarm systems separately alert the institute receptionist and the facility managers of potential breaches of climatization (e.g., freezer temperatures, room temperatures, humidity and air conditioning).
Reference
1. Cervo, S. et al. (2015) "Cost-effective organization of an institutional human cancer biobank in a clinical setting: CRO-Biobank experience toward harmonization.," International Journal of Biological Markers, doi: 10.5301/jbm.5000138.