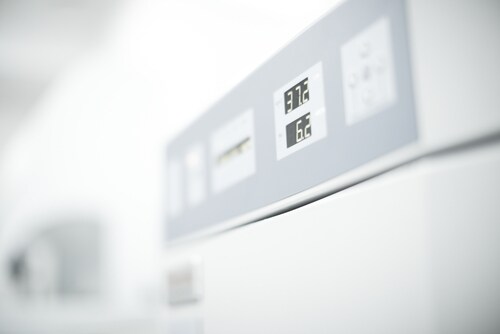 Thinking about vaccine storage?
The first thing that should come to mind is temperature: Do I need a refrigerator or a freezer? Making sure that vaccines are stored under the correct conditions is vital to preserving their activity and effectiveness.
Vaccines are precious and fragile materials with specific storage requirements dependent on what they contain. For example, most live virus vaccines can be stored frozen, whereas attenuated viruses often need to avoid extremes (freezing/heating) to retain activity. However, despite comprehensive information on storage available for each vaccine, refrigeration problems are a common cause of waste each year.1
Whether it's caused by human error in selecting the right storage environment or by equipment failure, exposing vaccine vials to the incorrect temperature risks inactivating the contents and invalidating public health campaigns. Though it's not dangerous to give a spoiled vaccine, revaccinating a population at risk takes valuable time and money.
How should I store vaccine stocks?
Check the information that comes with the vaccine. The manufacturer will give very specific information on the temperature range at which the vaccine is best stored, which will show whether you need a refrigerator or a freezer.
How much storage do I need?
Calculate how much storage you will need by checking records for the volume of vaccine you routinely hold. As a rough rule of thumb, calculate the maximum storage requirement and then multiply by a factor of 1.25 to give a final volume.
Where should I store vaccines?
It is best to use a dedicated and purpose-built unit to store vaccines. For effective and secure storage, choose a high-performance model specifically designed for holding vaccines over domestic or commercial refrigerators or freezers. Not only are these more reliable, but they also come with a range of features and options specifically designed to meet vaccine storage requirements:
Automatic defrost function keeps the unit free of water, ice and frost, which would otherwise cause temperature fluctuations and machine failure.
Surge suppressors minimize electrical supply disturbance.
Remote alarms and wireless monitoring ensure prompt attention, if equipment fails, in addition to a record of storage conditions.
Check manufacturer specifications against your list of requirements to choose the best option for your needs.
Installing and using the refrigerator or freezer
Once selected, you can also optimize vaccine storage by paying attention to installing and positioning the refrigerator or freezer correctly prior to use.
Place the unit in a well-ventilated area out of direct sunlight.
Maintain free airflow around the unit.
The unit should have its own dedicated electrical outlet; for safety, make sure this supply is not operated by a light switch!
It is also best to delay loading vaccines into the unit until it reaches the correct storage conditions. This usually means waiting for an operating temperature of +4°C or -20°C, depending on the type of storage. Once loaded, keep a close eye on stocks by monitoring the temperature twice daily. Remember: for effective temperature control, stocks inside the unit should not sit near vents or outflows and should be kept away from doors.
Although the steps detailed above take some thought and preparation, spending a little time planning your storage needs can pay off in the long run.
Reference
1. Welte, M. (2007) "Vaccines ruined by poor refrigeration," USA Today, December 4.
Further reading
Bezawada-Joseph, P. (2015) Cold chain qualification: 5 questions you must ask when shipping biologics [e-book]. Fisher BioServices.
Bezawada-Joseph, P. (2015) "'Vaccine' and 'cold chain' are inseparable,' Fisher BioServices.
Thermo Scientific. (2013) "Guide for vaccine storage: Four steps for safe and secure vaccine storage."
Federal and global recommendations for vaccine handling
Centers for Disease Control and Prevention. (2012) Vaccine storage and handling.

World Health Organization. (2006) Temperature sensitivity of vaccines.

BC Centre for Disease Control. (2013) Communicable disease control immunization program Section VI – Management of biologicals.