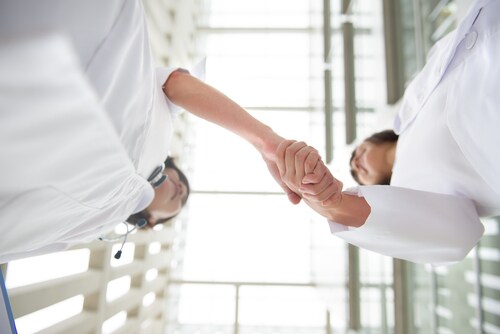 The empirical value of biobanking in development of personalized health care relies on efficient and maximal transfer of data. With increases in national and global collaboration for clinical studies and personalized health care research, data transmission occurs more frequently and in larger amounts. In order to facilitate this, biobanks use electronic record keeping, matching biospecimen information with data arising. This move to electronic health records storage in current biobanking practice coincides with advances in genomics and proteomics that have greatly increased the amount of data gathered with each biospecimen.
Additionally, as a key player in the development of personalized health care, biobanking is only valuable if the biospecimens stored within it are representative; this requires recruiting participants and donors within specific populations. However, donors will only provide biospecimens if they implicitly trust the biobanking institution to which they are donating. These trust issues are especially important in terms of personal information and record keeping, requiring development of institutional responsibilities for privacy, data sharing and collaboration.
How can institutions encourage, build upon and maintain this trust?
Platt and Kardia (2015) studied factors valuable in building donor trust in biobanking, harnessing Amazon's MTurk program to distribute their survey to the general public.1 Their results, of interest to policy makers and planners within the biobanking world, show that personal engagement is at the heart of building trust in a system that is becoming more reliant on electronic record keeping.
The authors designed their questionnaire around the following factors influential in biobank participation, building a conceptual model that could explain development of system trust:
         Knowledge of health information sharing practices
         Experience with the health system
         Donor expectations: benefits and outcomes
         Ability or likelihood to trust the system
         Donor privacy concerns
         Donor psychosocial characteristics and demographics
Focusing on these areas, the researchers constructed a 119-item survey that explored how biobanking and health care are interrelated, and the factors by which these networks could facilitate or affect trust issues in potential donors. They distributed the survey online via Amazon's MTurk system, an online crowdsourcing platform that coordinates requests from individuals or businesses to perform tasks requiring human intelligence. Currently, MTurk is considered a good source for responses representative of the wider U.S. population.2
From their distribution, the researchers drew responses from 447 MTurk workers based in the United States. Of these, 51% were male, with 89.3% under the age of 55. They noted that a majority of respondents classified themselves as non-Hispanic white (76.1%). Approximately 40% of respondents self-reported their health as good.
Respondents reporting good health were more likely to show trust in the health system, as were those with unbroken insurance coverage and good or recent access to medical services. Furthermore, expecting a benefit from health information sharing increased trust levels, whereas expressing concern over privacy decreased it. Multivariate statistical analysis highlighted the interdependence of a number of factors associated with building trust in the health care system among respondents.
In their summary, Platt and Kardia suggest that although a well-informed public trusts health care systems and research more than an uninformed public does, there is a strong requirement that this process result from personal engagement with stakeholders and representatives. An abstract approach and involvement is detrimental. The authors describe these personal interaction opportunities as access points, where members of the public engage with health care providers and where trust builds. Their finding that interaction with primary health care providers and positive experience of health care systems strongly correlates with increased levels of trust should be valuable to administrators and biobanking staff for developing policies designed to improve biospecimen collection from the public.
References
1. Platt, J. and Kardia, S. (2015) "Public trust in health information sharing: Implications for biobanking and electronic health record systems," Journal of Personalized Medicine, 5 (pp.3–21) doi:10.3390/jpm5010003.
2. Buhrmester, M.et al. (2011) "Amazon's Mechanical Turk: A new source of inexpensive, yet high-quality, data?," Perspectives in Psychological Science, 6 (pp.3–5).