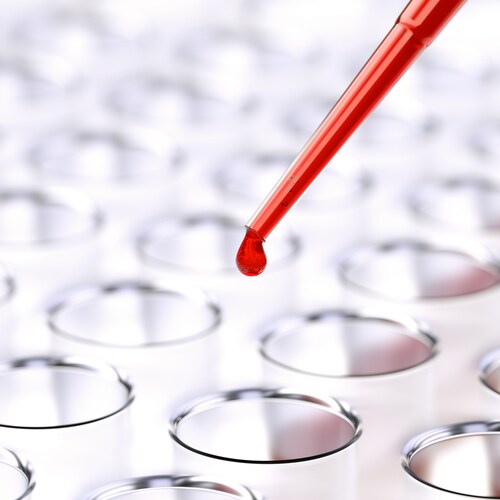 Isolating blood and other complex primary samples has now become a much simpler process. The Thermo Scientific KingFisher Flex magnetic particle processor rapidly isolates DNA, proteins and cells, achieving reproducible samples and leading to more effective experiments.
Inside the KingFisher Flex, magnetic rods move particles through the various purification phases, reducing the risk of cross-contamination. The 24-rod configuration increases the processing volume to 5 mL, while the 96-rod configuration can achieve the highest throughput in working volumes of 20–1000 µL. The magnetic particles are customizable, and the open platform design makes it compatible with any available magnetic particle kit on the market. As another option, the Thermo Scientific BindIt software makes it easy to design new protocols for magnetic particle kits used with the KingFisher Flex processor.
Recently, scientists illustrated the capabilities of the KingFisher Flex by isolating gDNA from 1 mL of whole blood.1 They pipetted the blood samples into alternate wells of a 24-well plate to identify any cross-contamination during the gDNA isolation. Into the remaining wells, they pipetted 1 mL of TE buffer (pH 8.0) as a negative control.
For this analysis, the investigators used an InviMag Blood DNA Mini Kit with the KingFisher Flex 24-well format. The gDNA yield was an average of 75 ng/µL. To determine if any cross-contamination occurred, they performed 50 µL PCR on all eluates. Since no PCR products could be recovered in the negative control wells, the investigators could conclude that there had been no cross-contamination between the controls and the blood samples present in adjacent wells.
They also performed a comparison test to evaluate the gDNA yield obtained by three traditional spin column blood purification kits commonly available: the InviMag Blood Mini Kit / 96, AGOWA sbeadex Blood Kit and BioSprint 96 DNA Blood Kit.  They found that all three kits performed at similar levels, with OD ratio A260/A280 of 1.8–1.9 and an acceptable average of over 40 µg of gDNA isolated from 1 mL of whole blood.
The investigators also compared the length of time it took for each DNA isolation. For the spin column method, the total time was around 2 hours and 17 minutes, with hands-on time (filling plates) of 1 hour and 42 minutes. In contrast, the KingFisher Flex instrument took 1 hour and 18 minutes for 24 samples. Filling plates took just 22 minutes of that time, thereby saving time and increasing productivity. All things considered, the KingFisher Flex is an excellent tool to obtain high-volume purification with magnetic particles.
Reference
1. SP&A Application Laboratory (2014) "Rapid and reproducible DNA isolation from 1 ml of whole blood with Thermo Scientific KingFisher Flex," Application note: AP-MIB-KFFLEX-0508.