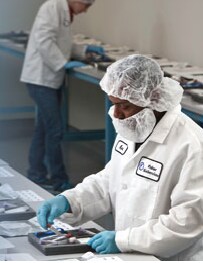 Variations in how biobank samples are collected, processed and stored can influence downstream analyses and/or applications, and without proper controls for these so-called "pre-analytical" variables, biospecimen-based research can result in identification of misleading biomarkers – and potentially a significant waste of time and resources.
Fortunately, various groups are working to develop ways to better understand and manage the pre-analytical environment. For instance:
SPREC. In 2009, the International Society for Biological and Environmental Repositories (ISBER) Biospecimen Science Working Group developed the Standard PREanalytical Code (SPREC), which provides a comprehensive and user-friendly tool to document the in vitro pre-analytical details of biospecimens during collection, processing, and storage. As discussed at the ISBER website, the file SPRECalc Release Notes_V1.0 describes the technical requirements for the implementation of the tools, their description and the rules for data entry to ensure proper calculation of the codes.
ISBER EQA. Earlier this year, Sverre Sandberg's group published How to conduct External Quality Assessment Schemes for the pre-analytical phase?, in which they present an overview of different types of external quality assessment (EQA) schemes for the pre-analytical phase. This paper was further utilized by a Quality Working Group from ISBER to develop the ISBER EQA, which is used to collect and compare pre-analytical practices from various biobanks around the world.
BEBPs. The National Cancer Institutes' Biorepositories and Biospecimen Research Branch (NCI BBRB, formerly the Office of Biorepositories and Biospecimen Research or OBBR) has developed a series of Biospecimen Evidence-Based Practices (BEBPs). The first entry in the series focuses on best practices in the collection, processing and preservation of surgical tissue, and as the authors point conclude in the paper, National Cancer Institute Biospecimen Evidence-Based Practices: A Novel Approach to Pre-analytical Standardization, "Ultimately, the use of evidence-based biospecimen procedures should raise the quality of research biospecimens and in turn raise the quality and reproducibility of biospecimen-based research and clinical trials."
Here's an infoposter for those who are working with many sample types for various end uses. It illustrates optimal sample storage temperature based on your end-use of the sample:
You can download the poster here.