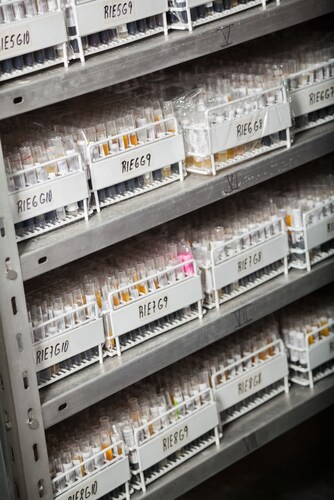 Forty percent of cancer research relies on human biospecimens, which are frequently sourced from biobanks. Simplistically, biobanking is a collection of biomaterials that are often "leftovers" from patient procedures. There is also considerable variation in biobank size. On one end of the spectrum are mono-user biobanks where researchers collect specimens to address a specific research question. At the other end are much larger biobanks, supporting multiple research projects across multiple institutions. With such operational and functional diversity, it is challenging to generate data on the extent of biospecimen use or planning for future use. This uncoordinated approach to biobanking has likely contributed to the funding and sustainability problems biobanks face. Meredith et al.1 have proposed a model to establish stock targets for frozen biospecimen collection that will support the predicted needs of cancer research.
Meredith et al. used the British Columbia Cancer Agency's Tumour Tissue Repository (TTR) as a case study. The TTR is a poly-user biobank supporting both prospective and retrospective research studies. The researchers first calculated past research use from the total number of biospecimens used by researchers to generate publishable data. They based this calculation on a series of factors:
Research use factors: for example, the number of papers and frequency of frozen specimen use.
Research funding factors: for example, the number of cancer researchers funded each year and the relative size of the region served by the biobank.
Biospecimen qualification factors: for example, biospecimen quality and the number of times a sample can be used to support studies.
Research trend factors: for example, demand for complex specimens, investment in tumor types and whether a biobank can fill demand from its own stores as opposed to drawing on other biobanks.
Biobank trend factors: for example, biobank focus and demand pressure.
Similarly, this information assisted the investigators in calculating the number of samples for each tumor site a biobank needs to build sufficient stock to support research. The model then used an estimate of the total number of biospecimens required to support the publication output generated by cancer researchers in Canada to determine strategic biobank stock targets. Meredith et al. then adjusted for relative research funding by cancer type, population and quality to determine relative stock targets for the TTR. They focused on breast, colorectal, lung and prostate cancers. For each tumor type, the investigators adjusted the stock target by typical specimen size and yield, the number of studies that a typical specimen can support, and the influence of selection criteria used to select specific samples from stock.
Meredith et al. estimate that the stock target for the TTR is approximately 4,500 specimens. They believe that developing stock models such as this for biobanking allows more accurate allocation of funding within a known budget.
Reference
1. Meredith, AJ, et al. (2015) "A model to estimate frozen tissue collection targets in biobanks to support cancer research," Biopreservation and Biobanking, 13(5) (pp. 356–362).