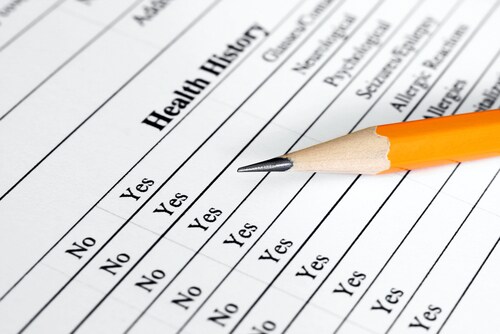 Researchers in the United Kingdom have collated retrospective data from almost 500,000 biobank samples collected in 21 centers across England, Wales and Scotland to develop a questionnaire that accurately predicts all-cause mortality.
Ganna and Ingelsson1 found that the strongest predictor of all-cause mortality was self-reported health in men and a previous cancer diagnosis. Overall, measures of smoking habits were the strongest predictors of all-cause mortality. Using participants enrolled in the UK Biobank from 2007 to 2010, the investigators collected data to form baseline measures. The investigators collected blood samples from almost 500,000 participants and had them complete a questionnaire. This included physical and biological measures of participants aged between 40 and 70 years: blood assays, cognitive function, early life factors, family history, health and medical history, lifestyle and environment, physical measures, psychosocial factors, sex-specific factors, and sociodemographics. The researchers excluded participants with major diseases or disorders.
After follow-up, the team was able to define six cause-specific mortality categories using the International Classification of Diseases, edition 10, as follows: neoplasms, diseases of the circulatory system, diseases of the respiratory system, diseases of the digestive system, external causes of mortality and morbidity, and other diseases. Using a statistical survival model, they were able to determine the probability of these measurements in predicting mortality. They then used the best measurements for predicting death, 13 for men and 11 for women, to create a short questionnaire, which they called the Ubble test.
The ability to identify and stratify individuals according to risk of decreased life expectancy is a powerful tool in a middle-aged to elderly population. It could be used by individuals to improve self-awareness of their health status, by clinicians to identify patients at high risk of mortality to target with specific interventions, and by governmental and health organizations to decrease the burden of some risk factors. These measures can also be obtained relatively efficiently, through questionnaires and without physical examination
This is the first study to provide an analysis of predictors of mortality in a large cohort. It is also the first prognostic index for five-year mortality calibrated for the UK population between 40 and 70 years old. The test can be found at UK Longevity Explorer Web site.
Reference
1. Ganna, A., and Ingelsson, E. (2015) "5 year mortality predictors in 498 103 UK Biobank participants: a prospective population-based study," The Lancet, 386(9993) (pp.533–540) [epub ahead of print].