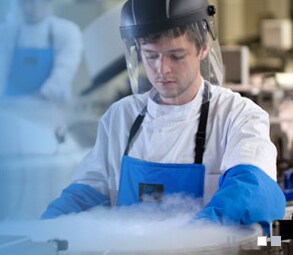 Far too many biobankers may be unaware of downstream events that can impact their samples. As we've mentioned before, variations in how biospecimens are collected, processed, stored and transported can significantly influence analyses and/or experimental results performed with these samples. Without the proper equipment, procedures and controls in place, samples can be lost, misidentified or damaged –all of which can lead to a considerable waste of time and resources.
In an earlier blog post, we explored how to minimize temperature threats when transporting samples. Today, I'd like to continue the conversation about sample transport, but shift the focus to another area that demands your consideration: traceability.
Whether you're moving samples within your own biobank or shipping them from your facility to a different one half-way around the world, traceability during the transport process needs to be one of your top priorities. In particular, make sure you're paying attention to:
Labels and unique identifiers. When you're transporting samples, be wary of old-fashioned "sticky" labels on storage tubes. They can fall off or the writing on them can get damaged. Remember: Even if your sample is successfully transported to its new location, no one can use it if it can't be identified! That's why every sample needs a unique identifier or combination of identifiers that are a permanent part of the container. Identification options include: human readable ID (no scanner required), linear barcodes and 2D barcodes. (See more in this previous post, The Anatomy Of A Storage Tube.)
Chain of custody. You need to document every step a sample takes on the way to its new destination. A detailed chain of custody report can help you re-trace all movements during transport –and that can be incredibly useful if the biospecimen that was transported yields unexpected results.
Temperature history. Temperature during transport can impact sample quality. Ideally, each sample should be maintained at its optimal storage temperature for the duration of the shipment. If it isn't, you need a record of the total time spent out of a controlled environment. Keep in mind that freeze and thaw cycles can diminish long-term sample quality and lead to inaccurate results in research experiments and clinical trials. If one sample in a collection isn't viable (or is yielding unexpected results), others that were transported at the same time may be damaged, as well.
Documentation. Documentation of the transport chain of custody, temperature history, etc. must be logged where other sample information is stored –whether that's via a LIMS, some other data base or a conventional research notebook. I strongly suggest maintaining records in two different places. Commit to making duplication of documentation an SOP.
If your research involves regulated samples, you know that thorough record-keeping is required to designate chain of custody, temperature history, etc. during transport. But more and more, biobankers now recognize that robust processes for traceability during transport are essential for all samples. Why? Because comprehensive documentation of a sample's history supports downstream use and analyses.
Do you have a tip for improving sample traceability during transport? Please share it in the comment section below.