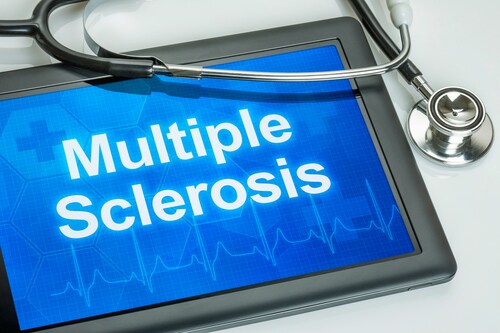 The Norwegian Multiple Sclerosis Registry and Biobank currently has 6,000 registered multiple sclerosis patients. The biobank contains approximately 2,200 samples of patient DNA, 700 family member control samples, 300 samples of cerebrospinal fluid, and tissue samples from about 80 patient brains.
The registry initially gained licensing and approval from the Regional Committee for Research Ethics and Norwegian Data Protection Authority in 1998. Treating neurologists enrolled individual patients though informed written consent from 2001. They used three different registration forms: one for basic information on diagnosis and demographic factors, and two for multiple sclerosis treatment initiation and follow-up.
In 2007 the registry expanded to include a biobank holding blood samples (DNA and serum) and cerebrospinal fluid collected during the diagnostic procedure as well as brain tissue obtained at autopsy, thus increasing the prospective usefulness of the resource.
Multiple sclerosis is a chronic inflammatory disease of the central nervous system, has no known cause and is not curable. Nonetheless, treatments that reduce disease activity are available. However, the efficacy of such treatments is highly variable between patients. Therefore, access to a comprehensive clinical and biological resource such as the Norwegian Multiple Sclerosis Registry and Biobank may provide significantly improved clinical outcomes for future multiple sclerosis patients. Biomarkers to predict prognosis and treatment response and the ability of researchers to further elucidate pathogenesis are just some of the benefits that may improve health care for multiple sclerosis patients.
The registry and biobank now collect data on demography, results from diagnostic procedures, risk factors and treatment. Myhr, K-M. et al1 are also developing additional modules for patient-reported evaluation and patient-reported outcome to provide feedback to the Norwegian health care system.
Further to this, the biobank and registry became involved in a linkage study with the Medical Birth Registry of Norway, where the investigators showed that there were significantly lower mean birth weights in term births by women with established multiple sclerosis compared to those with pregnancy before multiple sclerosis onset and diagnosis. Additionally, the study showed that there was a higher rate of mortality in women with multiple sclerosis as compared to men.
The Norwegian contribution to the large international case-control study on environmental risk factors in multiple sclerosis (EnvIMS) was based on the Norwegian multiple sclerosis registry. This study has shown that obesity commencing in childhood through to young adulthood increases the risk of multiple sclerosis, as does infectious mononucleosis. Conversely, sun exposure and cod-liver oil during this same period may have protective effects against multiple sclerosis.
The multiple sclerosis registry and biobank contains a web-based registry that provides patient information on an institutional, departmental or treating physician level. The investigators' vision for the future is that this system will generate follow-up datasets for quality control of diagnosis and treatment to improve health care.
Reference
1. Myhr, K-M., et al. (2015) "The Norwegian Multiple Sclerosis Registry and Biobank," Acta Neurologica Scandinavica, 132(S199) (pp. 24–28), doi: 10.1111/ane.12427.