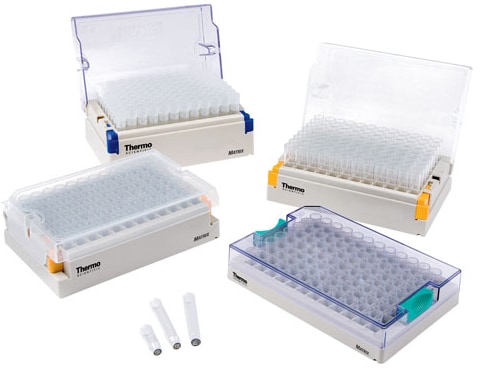 As outlined in the previous post titled The Anatomy Of A Storage Tube, there are several factors to consider when selecting a container to store biosamples. To quickly review, high quality storage tubes are:
       Sterile and free of contamination
       Manufactured and tested under strict quality control
       Designed with a seal that can contain the sample even under harsh conditions
       Labeled with unique identifiers that won't wear off over time
Since several brands meet the basic criteria above – or claim to, at least – how can you be certain you're selecting the storage tubes that are best for your sensitive and irreplaceable biospecimens?
There's only one way to be sure: Ask the difficult questions and look for data to back up the answers.
Our applications team recently conducted an intensive validation of our Thermo Scientific™ Matrix™ 2D-barcoded storage tubes against two competing products." The validation experiments were replicated and controlled for variables like capping force . . . and to me, the results were quite convincing.
Among the key findings:
       Freeze, thaw and drop: No loss of tube integrity. Our team subjected each type of tube to five freeze/thaw cycles at -196°C, without direct exposure to the Liquid Nitrogen followed by a leak test under vacuum( Note: Tubes are only recommended for storage in the vapor phase of LN2, not the liquid phase without protective shielding, such as Thermo Scientific™ Nunc™ Cryoflex™ tubing). None of the tested Matrix 1.0mL tubes failed this test, in contrast to about 70% of a competitor's 1.0mL tubes.
In addition, to simulate performance in laboratory accidents, the team froze 96-tube racks and dropped them from 91.4cm. None of the Matrix tubes showed signs of breaking, while about 2% of the competitor's tubes failed after being dropped. Of course, nobody plans to drop racks of invaluable samples, but it's good to be prepared . . . because accidents do happen!
       Superior DNA and protein recovery. High quality tubes are constructed from materials that don't bind protein or DNA and allow the entire sample to be recovered after storage. We tested Matrix 2D-barcoded tubes against the competitors for DNA and protein binding. Matrix tubes performed as well as or better than the competitors in all but one test.
       High contrast 2D barcodes. The barcode on a tube is just as important as the sample itself in a biobank of any scale. The 2D barcodes on Matrix tubes has the highest contrast among the brands tested (see photo below), improving readability under less than ideal conditions. The Matrix barcodes are also highly resistant to physical and chemical abrasion, and all pass readability quality verification before leaving the factory.
For more detail about Matrix 2D-barcoded Storage Tubes and the test data referenced above, see the application note here.