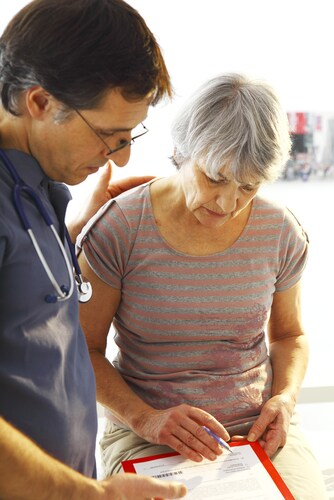 The future of cancer research is highly dependent on researchers' ability to collect and bank patient samples. Bound by country-specific rules of ethics and guidelines, researchers ultimately depend on patients, who must first consent to sample collection. To determine what factors may influence patient willingness to consent for biobanking, Pillai et al. collected data from Royal North Shore Hospital and North Shore Private Hospital in Sydney, Australia, over a six-month period.1
The team examined a variety of factors that might affect whether or not patients choose to have samples banked for research purposes. They recorded each patient's gender, age at surgery and type of malignancy to see whether they could identify any trends. They included patients diagnosed with breast, duodenal, cervical, endometrial, gastric, liver, esophageal, ovarian, pancreatic, pelvic, uterine and vulval cancer.
The team investigated these factors by using an opt-in model. One of three tumor bank staff (two female, one male; mean age 32 years, range 26 to 37 years) spent between 5 and 30 minutes with each patient. The bank staff also collected clinical information about each patient, including pathology reports, treatment and subsequent outcome data. Patients were not re-contacted for collection of follow-up information. They were able to revoke their consent at any time with the understanding that their sample may have already been used in research studies, especially if they revoked consent months or years after their specimens were collected.
Out of 171 cancer patients, 159 (93%) gave broad consent. Interestingly, the researchers found no correlation between any of the described factors thought to influence patients' decisions. These results were consistent with data reported by the Eastern Cooperative Oncology Group (ECOG), which found an 89.4%–93.7% consent rate for future storage and use of biological specimens remaining after therapeutic cancer clinical trials.2 A meta-analysis involving multiple countries (Sweden, Iceland, the United Kingdom, Ireland, the United States and Singapore) is also consistent with these results.3
Since it was unclear why 7% of patients declined to participate, the authors posit that other, more complicated factors specific to the individuals may be at work. Cultural biases, feeling a lack of control or wanting to preserve privacy are some reasons patients may choose not to consent.The authors recommend that future studies examine the potential impact of broad patient consent, with a focus on patient choices and attitudes toward biobanking.
References
1. Pillai, U. et al. (2014) "Factors that may influence the willingness of cancer patients to consent for biobanking," Biopreservation and Biobanking, 12(6) (pp. 409–414) doi: 10.1089/bio.2014.0039.
2. Malone T, et al. (2002) "High rate of consent to bank biologic samples for future research: The Eastern Cooperative Oncology Group experience," Journal of the National Cancer Institute, 94(10) (pp. 769–771).
3. Johnsson. L., et al. (2010) "Hypothetical and factual willingness to participate in biobank research," European Journal of Human Genetics 18(11) (pp. 1261–1264).