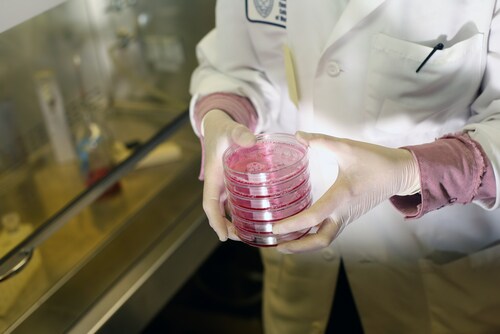 As genomic technology continues to flourish, so does the wealth of information that we can glean from tissue samples. Ultimately, this ever-growing understanding of cancer biology is walking us toward an era of personalized medicine and better outcomes for cancer patients. However, as our reliance on biobanking increases, so does our understanding of some of the choke points in biobanking processes. To address these barriers, researchers are increasingly establishing standard operating procedures as a matter of course and sharing these with their partners.
Globally, one of the major emerging biobanking issues is RNA degradation in samples after they have been removed from the patient. In a recent study, Sun et al.1 examined the effects that ex vivo ischemia time, storage time and transport conditions may have on DNA integrity and gene expression.
The investigators used two sources for tissue material. To assess the effects of storage time, they obtained 100 renal cell carcinoma tissue samples and their matched normal tissue from their own biobank. In order to assess ex vivo ischemia and transport effects, they collected fresh renal cell carcinoma samples from five patients together with normal matched tissue. They extracted total RNA from all samples and calculated an RNA integrity number (RIN) from 1 to 10, where 10 indicated RNA that is completely intact.
The effect of storage time on RNA integrity
The investigators sorted the 100 samples from their biobank according to storage period. They created five groups, each with 20 samples: 10 tumor and 10 normal matched tissue. The five sample groups were defined by storage duration in months: 0–6, 7–12, 13–18, 19–24 and 25–30. The RIN values for the stored samples were as follows:
| | | |
| --- | --- | --- |
| Storage time | RIN tumor | RIN matched control |
| ≤6 months | 7.77 ± 0.95 | 4.45 ± 1.68 |
| 7–12 months | 7.87 ± 0.37 | 3.77 ± 1.25 |
| 13–18 months | 7.15 ± 1.46 | 4.04 ± 1.17 |
| 19–24 months | 8.10 ± 0.64 | 4.70 ± 1.85 |
| 25–30 months | 7.11 ± 1.08 | 3.29 ± 1.12 |
Sun et al. propose that the reason for the significant difference in RIN between renal cell carcinoma samples and their matched tissues relates to the difference in tissue composition. Tissues rich in connective or fatty tissues have relatively low RINs compared to tissues from more cellular organs, such as carcinomas. Previous studies cited by the investigators suggest that samples with RINs of ≥7 can be used for highly demanding gene array assays, and those with RINs between 4.1 and 6.9 can be used for quantitative reverse transcription polymerase chain reaction (RT-PCR).
Effects of ex vivo time and transport
Following excision, the investigators dissected the samples into 0.4 g samples. They used one sample of each specimen as a reference (time point 0 hours), immediately placing each in a cryovial and freezing it in liquid nitrogen. They divided up the remaining samples such that each sample was stored at a different temperature and transferred to liquid nitrogen at a different time point. There were three temperature groups: ice, room temperature and cold 0.9% NaCl. Within each temperature group, the samples were transferred to liquid nitrogen at 0.5, 1, 2 or 4 hours.
They found there was a tendency toward lower RINs at room temperature and in NaCl compared to the reference samples. They also found that there was RNA degradation in renal cell carcinoma samples beginning at 1 hour at room temperature. In contrast, RNA in the reference samples stored on ice remained stable at 4 hours.
When they performed gene expression studies on the five excised samples and their subgroups of temperature and ex vivo time comparisons, they found that EGFR and MMP -9, both of which are related to tumorigenesis and invasion, were not affected by ischemia time or storage conditions.
They found gene expression to be significantly altered by ischemia and transport. Most notably:
 Hypoxia-regulated genes HIF-1a  and HMOX1  increased at all storage conditions, though there was variation in the time at which this began between conditions.
 Antiapoptotic genes BCL2 and BAG1 were stable on ice after 4 hours. After 4 hours at room temperature, however, BAG1 increased, and slight upregulation was noted at 2 hours in 0.9% NaCl.
 EGFR and MMP- 9 expression levels remained stable.
Sun et al. demonstrated the effects of ex vivo ischemia time, storage time and transport conditions on RNA degradation. These outcomes should be considered in the development of standard operating procedures for biobanking.
Reference
1. Sun, H. (2015) "Effect of duration of ex vivo ischemia time and storage period on RNA quality in biobanked human renal cell carcinoma tissue," Annals of Surgical Oncology, epub ahead of print.