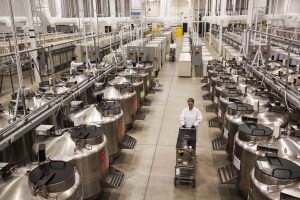 Some 30 million people in the United States and 350 million individuals worldwide suffer from rare diseases. Even though that's a fairly large population overall, the number of people suffering from any one specific rare disease is relatively small. (In the US, a disease is considered "rare" if it affects less than 200,000 people).
As a result, gathering an effective sample size can be problematic for those studying a particular rare disease. To conduct a study of any significance, researchers need to gather hundreds of quality samples from affected individuals, affected individuals' relatives and healthy control populations –a Herculean task if the disease doesn't occur often.
Fortunately, though, the vast majority of rare diseases (80 percent) are caused by genetic factors, which makes them well-suited to research using biobanks and today's -omics level technologies. For example, the EuroBioBank network has partnerships with 21 biobanks in eight European countries and is dedicated to conducting research into rare diseases. In the US, the Sarcoma Alliance for Research through Collaboration has established a biobank for research about sarcomas, which comprise about one percent of adult and 15 percent of pediatric malignancies.
Biobanking for rare diseases does involve special considerations, however. Here are some key factors we believe all rare disease biobanks should incorporate:
Gathering a significant amount of biosamples for a rare disease study requires a biobank to reach across state and national boundaries. Biobanks and repository networks will need to collaborate with a wide range of hospitals, clinicians and research groups. A great example of collaboration for rare disease research is the Rare Diseases Human Biorepositories/Biospecimen (RD-HUB), a searchable database of biospecimens collected, stored and distributed by biorepositories in the United States and around the world.
As a rare disease biobank will likely be collaborating with organizations internationally, a centralized design is key. One way to establish a centralized biobank is to use a third-party provider instead of creating a new facility.
      

Automated sample handling
Rare disease biosamples are invaluable in research and are difficult to duplicate or replace. Therefore, biorepositories need to follow strict standardized operating procedures to ensure the collection is stable over time. Automated sample handling procedures can help ensure sustainability and improve quality control. The ebook "Automating Your Sample Collection for Biobanking: 10 Things to Consider" is filled with information about how biobankers can update their sample collection systems.
We recently interviewed Yaffa Rubinstein, PhD, Director of Patient Resources for Clinical and Translational Research Office of Rare Diseases Research (ORDR) at the National Center for Advancing Translational Sciences (NCATS) and the National Institutes of Health, about the role biobanks play in rare disease research.
"Biobanking technology allows us to collect, store and handle biospecimens that are essential for this kind of work in more effective ways," Dr. Rubinstein said. "You need biospecimens – such as samples of blood, skin, hair, tissue, etc. – from the patient for research or to understand the pathogenesis and the biological nature of a rare disease."